Publication:
Homosexualidad y religión ¿derechos irreconciliables?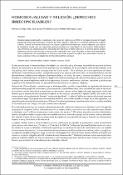 Advisors (or tutors)
Editors
Publisher
Federación Española de Sociología
Abstract
Desde la regulación del derecho al matrimonio entre parejas del mismo sexo en 2005, no han dejado de surgir en España argumentos contra este derecho que se inspiran de forma explícita o implícita en la ortodoxia doctrinal de la Iglesia Católica. Al mismo tiempo, aunque con menor impacto mediático, diferentes grupos de cristianos proclives al matrimonio de personas del mismo sexo han venido aportando numerosos argumentos, también religiosos, desde los que se defiende el derecho al matrimonio de cualquier persona con independencia de su orientación sexual. Si desde los Derechos Humanos se rechaza por igual la discriminación por razones religiosas y por razones de orientación sexual, ¿con qué argumentos podemos plantear una reconciliación de dos derechos fundamentales? En la presente ponencia ofrecemos una perspectiva general del debate sobre este tema, prestando atención a los diversos actores sociales implicados en la discusión así como al marco jurídico internacional en el que se formulan los derechos fundamentales. Como contribución a la reconciliación de posturas en el debate, la ponencia explora varias experiencias concretas (individuales y colectivas) en las que homosexualidad y religión se encuentran reconciliadas o no han guardado una relación problemática particular. A partir de estas experiencias positivas, proponemos la construcción de un repertorio de buenas prácticas en el que se respeten los derechos fundamentales por igual.
The legalization of same-sex marriage in 2005 in Spain led to the emergence of homophobic arguments against this legal change. Most of these arguments were inspired explicitly or implicitly by the doctrinal orthodoxy of the Catholic Church. At the same time, various Christian groups also exposed religious arguments to defend everyone's right to marry regardless of sexual orientation. Nonetheless, these groups and arguments have had less visibility and impact on the media. If Human Rights rejects both religious discrimination and discrimination based on sexual orientation, what elements could provide a reconciliation of these two fundamental rights? In this paper, we present an overview of the debates around this question. We pay attention to the various stakeholders involved in the discussion as well as the international legal framework in which fundamental rights are formulated. As a contribution to a reconciliation of positions in this debate, this paper explores several specific experiences (individual and collective) in which homosexuality and religion have not meant a particularly conflictive relationship. From these positive experiences, we propose building a repertoire of good practices in which both fundamental rights are equally respected.