Publication:
Evolución de la protesta en España (2000-2017): un análisis de sus ciclos y características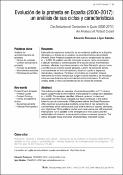 Advisors (or tutors)
Editors
Publisher
Centro de Investigaciones Sociológicas
Abstract
Este artículo explora la evolución de la contienda política en la España del siglo xxi a través de un análisis de acontecimientos de protesta (Protest Event Analysis) basado en una nueva y amplia base de datos (n = 4.062). El análisis permite distinguir diversos ciclos de protesta y discutir cambios y continuidades en la acción de los movimientos sociales. Mientras la protesta anterior a la Gran Recesión gira en torno a conflictos en muchos casos globales, a partir de entonces tiende a concentrarse en el nivel nacional y local en cuanto a espacios, demandas y objetivos. Partidos y sindicatos se muestran todavía relevantes al mismo tiempo que surgen nuevos actores y se revitalizan otros en una dinámica de movimiento/contramovimiento. El artículo analiza estas y otras características de los ciclos de protesta.
This article provides an overview of contentious politics in 21st century Spain using Protest Event Analysis (PEA) based on a large new database (n = 4,062). The analysis identifies different cycles of protest and discusses how they have changed and been continued in the action taken by social movements. While protest before the Great Recession often revolved around global conflicts, since then it has tended to be concentrated at the national and local level in terms of spaces, demands, and objectives. While political parties and trade unions are still important, their actions run in parallel to the emergence of new actors and the revitalisation of others in a movement/counter-movement dynamic. The article analyses these and other characteristics of protest cycles.
Collections