Publication:
Producción de un videojuego en realidad virtual con seguimiento de movimiento en visor y controladores manuales utilizando metodología Ágil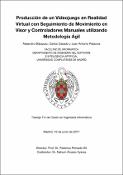 Advisors (or tutors)
Editors
Abstract
El presente Trabajo de Fin de Grado aborda la producción de videojuegos en Realidad Virtual desde el punto de vista de las metodologías ágiles en Ingeniería de Software. Analizamos el estado de la técnica en Realidad Virtual comenzando por una breve introducción a su historia, desde sus inicios a mediados del siglo XX hasta la aparición de los modernos cascos de Realidad Virtual en el estado actual de la técnica. Sobre estos últimos detallamos especialmente dos de los dispositivos de alta gama disponibles en el mercado: Oculus Rift y HTC Vive, con el que hemos trabajado. También revisamos entornos de desarrollo y herramientas disponibles, como Unity o Unreal Engine, con el que nos quedamos finalmente para aprovechar su potencia y robusta integración con Vive. El objetivo general de este proyecto es crear una experiencia en primera persona muy inmersiva mediante el uso del visor de Vive, con seguimiento de movimiento, y de los controladores de mano correspondientes, también capaces de hallar su posición y orientación. Estos controladores avanzados nos permiten experimentar con muy diferentes movimientos e interacciones dentro de la Realidad Virtual, de manera que podemos comprobar cuáles de ellos resultan más naturales y satisfactorios para los usuarios, y cuales son más factibles para implementar. Hemos elegido como hilo conductor de la experiencia el género de terror, concretamente la temática de las enfermedades mentales y las fobias, por considerarlo uno de los [que] más emoción puede llegar a provocar entre los jugadores de Realidad Virtual. Con el fin de lograr nuestro objetivo de manera eficiente, tomamos una serie de decisiones por las cuales comenzamos a utilizar la metodología ágil conocida como Scrum para modelar el proceso de desarrollo de nuestro proyecto. El resultado de las distintas fases de planificación, especificación, análisis, diseño, implementación y pruebas, así como la creación de un completo diario de desarrollo generada durante el mismo proporciona una sólida base, un videojuego en Realidad Virtual de nuestra autoría y con la mayoría de las características deseadas. Gracias a esa base podemos obtener unas conclusiones finales y valorar satisfactoriamente tanto los resultados obtenidos como la aplicación de la citada metodología en este proyecto. Consideramos que ahora está mucho más cerca la posibilidad de crear un producto comercial innovador que se apoye en las contribuciones de este trabajo.
This final degree project looks at video game development from the point of view of Software Engineering. We analyze the state of Virtual Reality, beginning with a brief introduction to its history, from its starting moments in mid twentieth century to the emergence of the moderns HMD (Head Mounted Display). We'll emphasize on this ones, specially on the market giants: HTC Vive and Oculus Rift. Our main goal is to develop an immersive experience using HTC Vive HMD and its motion controllers. These controllers will allow us to experiment with different movement types inside Virtual Reality, so that we can observe which ones of them are the most intuitives or more complicated in implementation matters. We chose as a conductive thread the survival horror game genre, due to considering it one of the most immersive that we know. In order to achieve our goal in the most effective way, we carry out an intense study of the state of the art, where we considered all the information we can collect about devices, development tools, or problems and applications of Virtual Reality. We decided to use HTC Vive, given its OpenVR philosophy; and Unreal Engine for developing our videogame. With all the decisions made, we began the real project using agile methodology for software development. More concretely, we used the one known as SCRUM. The extensive documentation generated during the development process provided us a solid basis for the creation of a complete development journal, which serves to provide final conclusions and decide if the experience with this methodology has been satisfactory and helpful to create a fully functional final product.
Description
Trabajo de Fin de Grado en Ingeniería Informática (Universidad Complutense, Facultad de Informática, curso 2016/2017)