Publication:
El valor intangible de la innovación de las marcas del distribuidor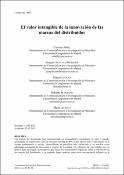 Advisors (or tutors)
Editors
Abstract
Las marcas del distribuidor han experimentado un extraordinario crecimiento en todo el mundo, alcanzando en España una cuota de mercado cercana al 40%. Estas marcas han evolucionado en el tiempo aumentando el surtido, desarrollando un portafolio más sofisticado, y en muchos casos adoptando estrategias de innovación y mejora de la calidad. Los objetivos de este estudio son: en primer lugar investigar la percepción que tienen los consumidores españoles sobre la innovación de las marcas del distribuidor y en segundo lugar, analizar cómo estas percepciones influyen en la creación de valores intangibles atribuidos a las marcas del distribuidor, a las enseñas que las respaldan y la prescripción de los consumidores.
Private labels have experience extraordinary growth worldwide, reaching in Spain a market share close to 40%. Private labels have clearly evolved over time increasing the range, developing a more sophisticated portfolio and in many cases adopting innovation and quality improvement strategies. The objectives of this paper are: firstly to investigate consumer perceptions of private-label innovativeness and secondly to analyze how these perceptions influence the creation of intangible assets related to the perception of private labels, retailers and other consumers prescriptions.
Collections