Publication:
Bioplataformas electroquímicas para la detección de antibióticos en leche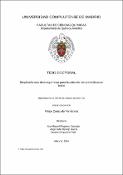 Authors
Advisors (or tutors)
Editors
Publisher
Universidad Complutense de Madrid
Abstract
El objetivo de este trabajo ha sido el diseño y desarrollo de nuevos sistemas electroquímicos de análisis para la multidetección y determinación de residuos de antibióticos pertenecientes a las familias de las tetraciclinas, sulfonamidas y β-lactamas, en leche. Se desarrollaron diferentes biosensores electroquímicos para la detección y determinación de familias individuales de antibióticos, así como sistemas multiplexados para la detección simultánea de antimicrobianos pertenecientes a diferentes familias de antibióticos. En los biosensores desarrollados se emplearon como receptores biológicos selectivos dos anticuerpos específicos frente a sulfonamidas y tetraciclinas y una proteína fijadora de penicilina para el reconocimiento selectivo de antibióticos β-lactámicos. Todos los biosensores se basaron en un formato de ensayo competitivo directo. Además, se exploraron otras estrategias electroquímicas con objeto de verificar su aptitud para ser empleadas en la detección de residuos de antibióticos, demostrándose la potencial aplicabilidad de la microscopía electroquímica de barrido, así como el posible desarrollo de una célula de biocombustible. Los resultados presentados demostraron en todos los casos la fiabilidad, exactitud, rapidez y selectividad de los biosensores implementados para la detección de las diferentes familias de antibióticos analizadas. Las metodologías desarrolladas pueden ser por tanto implementadas para el análisis de residuos de antibióticos en muestras de leche comerciales sin necesidad de aplicar tratamientos previos o en leche cruda tras un breve tratamiento térmico. Los biosensores desarrollados y las metodologías implementadas han probado ser útiles e interesantes herramientas analíticas en la detección y determinación de residuos de antibióticos.
The aim of this work was the design and development of novel electrochemical sensing systems for multidetection and determination of antimicrobial residues belonging to tetracycline, sulfonamide, and β-lactam antibiotics families in milk. Different electrochemical biosensors were implemented for the detection and determination of individual families of antimicrobial residues, as well as multiplexed systems for the simultaneous detection of antimicrobials from different families. As selective bioreceptors, two specific antibodies against sulfonamides and tetracyclines, as well as a recombinant penicillin binding protein for the recognition of β-lactam antibiotics were used in the developed biosensors, all of them based on direct competitive affinity assays. Moreover other non-conventional analytical strategies were explored in order to check their suitability to be used for the detection of antibiotics residues in milk, in this sense, it was demonstrated the potential applicability of scanning electrochemical microscopy, as well as the possibility of development of a biofuel cell with analytical purposes. The presented results demonstrated the reliability, accuracy, speed, and selectivity of the biosensors implemented for antimicrobial residues detection. The developed methodologies could be implemented for the assay in commercial milk samples without the need of applying any pretreatment or in raw milk after just a brief heat treatment. The developed biosensors and implemented methodologies proved to be useful and interesting analytical tools for antibiotics detection and determination.
Description
Tesis inédita de la Universidad Complutense de Madrid, Facultad de Ciencias Químicas, Departamento de Química Analítica, leída el 09-05-2014
Collections