Publication:
Procesos de sedimentación y biomineralización en la laguna alcalina de las Eras (Humedal Coca-Olmedo)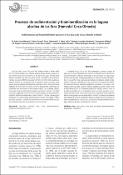 Authors
Fernández Escalante, Enrique
García del Cura, M. Ángeles
González-Martín, J. Antonio
Advisors (or tutors)
Editors
Publisher
Sociedad Geológica de España
Abstract
La Laguna de Las Eras es uno de los pequeños y someros cuerpos de agua, que forman el humedal de la zona Coca-Olmedo (cuenca del Duero), caracterizado por su elevada alcalinidad, lo que constituye un rasgo singular dentro de Europa. La laguna presenta una salmuera de tipo Na-Mg-ClSO4 y su superficie está colonizada por tapices microbianos, donde se desarrollan estructuras sedimentarias inducidas por los microorganismos (MISS). Se reconocen diversos minerales autigénicos asociados a los tapices: thenardita, hidromagnesita,sulfatos y fosfatos magnésicos, azufre y halita. Junto a éstos destacan, por ser carbonatos atípicos en Europa, natrón y trona. El estudio petrográfico de los precipitados revela que éstos guardan una estrecha relación con las estructuras microbianas, sugiriendo cierta influencia de los microorganismos en la precipitación mineral.Los tapices microbianos de la laguna de Las Eras constituyen buenos análogos para comprender los procesos geobiológicos y ahondar en la reconstrucción paleoambiental de los lagos alcalinos que han existido desde el Arcaico.
Las Eras Lake is one of the small and shallow bodies of water, which form the highly alkaline Coca-Olmedo wetland (Duero Basin), a unique feature within Europe. The lake brine is a Na-Mg-Cl-SO4 type. The lake hosts benthic microbial mats and its surface shows microbially influenced sedimentary structures (MISS). Associated with the microbial mats, several authigenic minerals are recognized such as thenardite, hydromagnesite, magnesium-bearing sulphate and phosphate, halite and sulphur.Among these we highlight the occurrence of natron and trona because the sodium-bearing carbonates are uncommon in the european region. The scanning electron microscopy study reveals that the minerals are closely related to microbial structures,suggesting some influence of microorganisms in the mineral precipitation. Recent microbial mats as those hosted in Las Eras Lake are good analogues for understanding geobiological processes. Knowledge of these processes provides a model for paleoenvironmental reconstruction of alkaline endorheic lakes that have existed since the Archean.
Collections