Publication:
Aplicación Android para gestionar la dieta de un deportista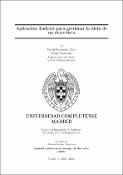 Advisors (or tutors)
Editors
Abstract
En este proyecto se describe la especificación de requisitos, diseños e implementación de una aplicación Android para la gestión de dietas para deportistas. Todo deportista necesita complementar su actividad física con una dieta saludable. En este sentido, un problema bastante habitual es ser constante en el seguimiento de la misma. Es por ello que este trabajo se ha tratado de resolver este problema proporcionado una aplicación orientada específicamente a gestionar dietas y a facilitar al usuario el seguimiento de las mismas. La aplicación ofrece al usuario la posibilidad de crear y gestionar una serie de dietas para su seguimiento. También se brinda la posibilidad de publicar las dietas creadas por un usuario, las cuales serán visibles por otros usuarios, creando así una red de personas que pueden comentar y valorar las dietas que siguen, para dejar constancia de su eficacia y ayudar con ello al resto de personas que usan la aplicación. Durante el seguimiento de una dieta, el usuario puede introducir la cantidad consumida de cada uno de los alimentos que componen la dieta, generando un registro de la ingesta calórica por cada día de la semana. Como complemento a todo ello, también se puede introducir la cantidad de pasos caminados durante cada día, así como el peso para que el usuario pueda ver una representación gráfica del progreso.
This project describes the requirements specification, designs and implementation of an Android application for diet management for athletes. Every athlete needs to complement their physical activity with a healthy diet. In this sense, a fairly common problem is to be consistent in monitoring it. That is why this work has tried to solve this problem by providing an application specifically oriented to manage diets and to make it easier for the user to follow them. The application offers the user the possibility of creating and managing a series of diets for follow-up. It also offers the possibility of publishing the diets created by a user, which will be visible to other users, thus creating a network of people who can comment on and evaluate the diets they follow, to record their effectiveness and thus help the rest of the people who use the application. While following a diet, the user can enter the amount consumed of each of the foods that make up the diet, generating a record of caloric intake for each day of the week. As a complement to all this, the amount of steps walked during each day can also be entered, as well as the weight so that the user can see a graphical representation of the progress.
Description
Trabajo Fin de Grado en Ingeniería del Software, Facultad de Informática UCM, Departamento de Sistemas Informáticos y de Computación, Curso 2021/2022.