Publication:
El giro saludable: sacrificio, sanación, bienestar y su relación con la espiritualidad contemporánea.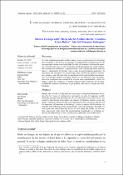 Authors
Martín-Andino Martín, Borja
Advisors (or tutors)
Editors
Publisher
Universitat Autònoma de Barcelona. Departament de Psicología de la Salud y Psicología Social
Abstract
Si en las teologías medievales el dolor físico y moral se consideraron la vía óptima para el espíritu, a día de hoy, sin embargo, la espiritualidad contemporánea ha ido incorporando valores como la felicidad, la salud, el bienestar o el desarrollo personal. Consideramos que en esta transformación de paradigma han estado implicados al menos tres elementos: la apertura de la visión cristiana del trance entre los laicos, el surgimiento de estudios clínicos sobre la espiritualidad en pacientes y la hegemonía del humanismo en la psicología. Para abordar esta hipótesis ofreceremos, primero, una reflexión sobre los significados de la espiritualidad contemporánea, y revisaremos después con mayor detalle los tres elementos clave mencionados en la transformación cultural de la relación entre espiritualidad y salud. Por último, a modo de conclusión, revisaremos algunas críticas recientes que la espiritualidad del bienestar ha levantado y que apuntan a ella como la religión del neoliberalismo.
Despite the relevance of physical and moral pain in medieval theologies, nowadays the key values of contemporary spirituality are akin to happiness, health/ wellbeing and personal development. We consider that at least three factors are related to this change of paradigm: the change of Christian attitude toward the trance experiences among the laics, the uprising of studies on clinical patients and the hegemony of humanism in Psychology. In order to explore this hypothesis, we will deal with definitions of the contemporary notion of spirituality. Secondly, we will explore the named three key factors in some detail and, finally, we will analyze some recent critics about the understanding of spirituality as wellbeing, exploring the relationship between contemporary spirituality and neoliberalism.
Collections