Publication:
Implementación de un planificador de tareas para multitarea hardware sobre un procesador empotrado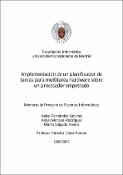 Advisors (or tutors)
Editors
Abstract
El objetivo del proyecto es programar un planificador de tareas sobre un procesador empotrado en una FPGA (field programmable gate array), dispositivo semiconductor que contiene componentes lógicos programables e interconexiones programables entre ellos, que gestione la carga de tareas hardware sobre dicho dispositivo de acuerdo con un algoritmo basado en la división de la FPGA en particiones de distinto tamaño. Este algoritmo consistirá en asignar la partición en la que se va a ejecutar cada tarea, antes de que la tarea llegue al procesador. El lenguaje de programación utilizado para programar este algoritmo es C. La implementación se realizará en una placa de prototipado que dispone de una FPGA Virtex II Pro. [ABSTRACT] The goal of our Project is to programme HW task schedular in a embedded processor in a FPGA ((field programmable gate array), semiconductor device which contains logical programming components and programming interconnections between them, to administer the hardware tasks load in this device according to an algorithm based on the FPGA's partition where every partition will have different size. This algorithm chooses the partition where every task is going to be executed before being processed by the embedded processor. The lenguage of programming that we used is C. The implementation will be carried out in an environment that contains a FPGA Virtex II Pro.
Description
Trabajo de la asignatura Sistemas Informáticos (Facultad de Informática, Curso 2006-2007)
Collections