Publication:
Estrategia docente a través de la elaboración de videoclips y su publicación en redes sociales como base de la mejora de competencias transversales en el aprendizaje personal y colaborativo de la educación superior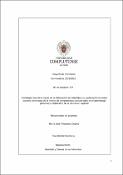 Advisors (or tutors)
Editors
Abstract
Esta experiencia de innovación docente ha permitido implicar en mayor medida a cada alumno en su propio aprendizaje. Se ha diseñado una estrategia con diferentes tareas que favorecen las competencias transversales. Han escrito guiones, los han re-escrito tras las correcciones e indicaciones del profesor, han grabado videoclips que les ha ayudado a comprender y expresar mejor los conocimientos, previamente explicados en la asignatura.
This experience of teaching innovation has made it possible to involve each student to a greater extent in their own learning. A strategy has been designed with different tasks that favor transversal skills. They have written scripts, they have rewritten them after the corrections and indications of the teacher and they have recorded videoclips that have helped them to better understand and express the knowledge, previously explained in the subject.