Publication:
Mesoporous Silica Nanoparticles Engineered for Ultrasound-Induced Uptake by Cancer Cells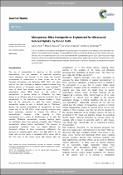 Advisors (or tutors)
Editors
Publisher
Royal Society of Chemistry
Abstract
A novel smart hierarchical ultrasound-responsive mesoporous silica nanocarrier for cancer therapy is here presented. This dynamic nanosystem has been designed to display different surface characteristics during its journey towards tumor cells. Initially, the anticancer-loaded nanocarriers are shielded with a polyethylene glycol layer. Upon exposure to high frequency ultrasound, the polymer shell detaches from the nanoparticles, exposing a positively-charged surface. That favors the internalization in human osteosarcoma cells, where release of topotecan takes place, drastically enhancing the cytotoxic effect.
Description
RESEARCHER ID D-9318-2017 (Juan Luis Paris de la Fuente) ORCID 0000-0001-8950-283X (Juan Luis Paris de la Fuente) RESEARCHER ID K-3719-2014 (Miguel Manzano García) ORCID 0000-0001-6238-6111 (Miguel Manzano García) RESEARCHER ID G-8740-2015 (María Victoria Cabañas Criado) ORCID 0000-0002-4753-5665 (María Victoria Cabañas Criado) RESEARCHER ID M-3378-2014 (María Vallet Regí) ORCID 0000-0002-6104-4889 (María Vallet Regí)
Collections