Publication:
Deseo mimético y ficción narrativa: autonomía y alteridad en la literatura occidental (siglos XIX y XX)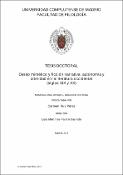 Files
Authors
Advisors (or tutors)
Editors
Publisher
Universidad Complutense de Madrid
Abstract
Esta tesis, titulada Deseo mimético y ficción narrativa: autonomía y alteridad en la literatura occidental (siglos XIX y XX), pretende, en primer lugar, ofrecer una perspectiva general de los presupuestos críticos de René Girard y de su trabajo hermenéutico sobre los textos literarios a los que sometió a un exhaustivo estudio. En segundo lugar, quiere explorar cómo responden al paradigma mimético algunas obras nunca exploradas por el crítico y antropólogo francés. No se han escogido unas obras cualesquiera, sino aquellas que, por diversos motivos, como pueden ser la biografía personal de sus autores, el momento histórico en el que fueron escritas, o la perniciosidad de la relación intersubjetiva entre sus personajes, nos han parecido idóneas para un estudio comparado inspirado en el que Girard realizó. Si conseguimos justificar satisfactoriamente que la narrativa de nuestro corpus participa de la intuición sobre la naturaleza del deseo que Girard atribuyó a estos grandes maestros, estaremos dotando a la teoría mimética de nuevas pruebas de que la andadura literaria occidental iniciada con Cervantes bebe de una herencia filosófica común relacionada con el legado evangélico que se habría manifestado también en autores tan dispares como Mansfield, los realistas españoles, Grass, Bernhard y Luis Landero. La antropología de Girard explica la génesis de la violencia en las comunidades humanas a través del deseo mimético, y por eso nos parecía especialmente pertinente analizar la relación intersubjetiva en la literatura de una nación, la nuestra, que ha conocido una exacerbada violencia entre iguales en su pasado reciente. A través del realismo español de Pérez Galdós y Clarín nos hemos detenido sobre el momento en que la sociedad se configuraba en torno a unas dinámicas que finalmente llevarían a la violencia generalizada entre seres humanos de una misma comunidad. En Juegos de la edad tardía de Landero (1989) hemos buscado señales de la transformación en el imaginario colectivo de los españoles y de la revolución secular que Girard atribuye, precisamente, al legado subversivo de Cristo y a su reivindicación del individuo, pero esta vez en una sociedad particularmente retrógrada y romántica, en la que diferenciaciones estrictas en torno al concepto de españolidad, la diferencia entre clases y la división campo-ciudad tuvieron vigencia hasta bien entrado el siglo XXI...
This thesis, titled Mimetic Desire and Narrative Fiction: Autonomy and Otherness in Western Literature of the XIXth and XXth century, sought to provide a general overview of René Girard's critical paradigm and general hermeneutics. Moreover, it envisioned a comprehensive exploration of how certain literary works that were never studied by Girard would respond to such a paradigm. The works selected as subjects of analysis are all literary pieces that, for various reasons, such as their author's respective biographies, the time at which they were written, or the insight they offered as regards intersubjective human relations, seemed particularly appropriate for the endeavour at hand. If we managed to prove that the nature of desire, as expounded by Girard, functions in the narratives of our corpus as he believed it did in the works of his great masters, we would be arming the mimetic theory with new evidence that there is indeed a common philosophy, rooted in the Christian message, present in many Western literary phenomena that can be traced as far back as Cervantes. 8 The works that we are going to test against Girard's views were written by Katherine Mansfield, Spanish realists Galdós and Clarín, Grass, Bernhard, and Luis Landero. Girard's anthropology explains human violence as a consequence of mimetic desire. This is why it seemed particularly relevant to analyse intersubjectivity in Spanish literature, which itself is a cultural product of a nation that underwent a serious case of widespread communal violence in somewhat recent times. Perez Galdós and Clarín guided us through that time in our History when Spanish society was taking on a particular shape, and embracing a series of dynamics that would eventually lead to uncontrollable, generalised violence amongst members of the same community. We approached Juegos de la edad tardía (1989), by Luis Landero, as a novel that could provide evidence of the transformation that took place in the Spanish people's collective imagination, as well as of the secular revolution facilitated, according to Girard, by Christ's subversive defence of the individual. Landero's story is set in a society that is particularly backwards and romantic, where clear-cut distinctions related to geographical or social origins, or myths such as the notion of "españolidad", were still meaningful in a XXth century context and would continue to be so in the following century...
Description
Tesis inédita de la Universidad Complutense de Madrid, Facultad de Filología, leída el 03/07/2017
Collections