Publication:
(How) Do research and administrative duties affect university professors' teaching?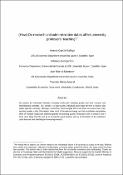 Files
Advisors (or tutors)
Editors
Abstract
We analyze the interaction between university professors' teaching quality and their research and administrative activities. Our sample is a high-quality individual panel data set from a medium size public Spanish university. Although, researchers teach roughly 20% more than non-researchers, their teaching quality is also 20% higher. Over much of the relevant range, we find a nonlinear and positive effect of research output and teaching quantity on teaching quality. Instructors with no research are 5 times more likely than the rest to be among the worst teachers and up to two-thirds of the professors could improve their teaching by increasing research.
Description
We would like to express our sincere thanks to the Universitat Jaume I for granting us access to the data. Without their careful and systematic collection of information on faculty duties and performance, this study would not have been possible. The authors want to thank Michael McAleer for his detailed comments and proofreading. Thanks are also due to Covadonga Gijón and Iñaki Iriondo for helpful suggestions.
Citation
Bedard, Kelly, and Peter J. Kuhn. 2008. "Where Class Size Really Matters: Class Size and Student Ratings of Instructor Effectiveness." Economics of Education Review. 27 (3): 253-265. Becker, William E. Jr. 1975. "The University Professor as a Utility Maximizer and Producer of Learning, Research, and Income." The Journal of Human Resources. 10(1): 107-115. Beleche, Trinidad, David Fairris, and Mindy Marks. 2012. "Do Course Evaluations Truly Reflect Student Learning? Evidence from an Objectively Graded post-test." Economics of Education Review. 31 (5): 709-719. Carrell, Scott E., and James E. West. 2010. "Does Professor Quality Matter? Evidence from Random Assignment of Students to Professors." Journal of Political Economy. 118 (3): 409-432. Ewing, Andrew M. 2012. "Estimating the Impact of Relative Expected Grade on Student Evaluations of Teachers." Economics of Education Review. 31 (1): 141-154. Feldman, Kenneth A. 1987. "Research Productivity and Scholarly Accomplishment of College Teachers as Related to their Instructional Effectiveness: A Review and Exploration." Research in Higher Education. 26 (3): 227-298. Friedrich, Robert J., and Stanley J. Michalak Jr. 1983. "Why Doesn't Research Improve Teaching?: Some Answers from a Small Liberal Arts College." The Journal of Higher Education. 54 (2): 145-163. Gomez-Mejia, Luis R., and David B. Balkin. 1992. "Determinants of Faculty Pay: An Agency Theory Perspective." The Academy of Management Journal. 35 (5): 921-955. Hattie, John, and Herbert W. Marsh. 1996. "The Relationship between Research and Teaching: A Meta-analysis." Review of Educational Research. 66 (4): 507-542. Hausman, Jerry A. 1978. "Specification Tests in Econometrics" Econometrica. 46 (6): 1251-1271. Hsiao, Cheng. 2003. Analysis of Panel Data, 2nd Edition, Econometric Society Monographs, Cambridge University Press. Isely, Paul, and Harinder Singh. 2005. "Do Higher Grades Lead to Favorable Student Evaluations?" Journal of Economic Education. 36 (1): 29-42. Krautman, Anthony C., and William Sander. 1999. "Grades and Student Evaluation of Teachers." Economics of Education Review. 18 (1): 59-63. Lindbeck, A., and D.J. Snower. 2003. "The Firm as a Pool of Factor Complementarities." IZA Discussion Paper 882. Marsh, Herbert W. 1987. "Student's Evaluation of University Teaching: Research Findings, Methodological Issues, and Directions for Future Research." International Journal of Educational Research. 11 (3): 263-253. Marsh, Herbert W., and John Hattie. 2002. "The Relation Between Research Productivity and Teaching Effectiveness: Complementary, Antagonistic or Independent Constructs?" The Journal of Higher Education. 73 (5): 603-641. Martin, B.R. 2012. "Are Universities and University Research under Threat? Towards an Evolutionary Model of University Specialization." Cambridge Journal of Economics. 36 (3): 543-565. McPherson, Michael A. 2006. "Determinants of How Students Evaluate Teachers." Journal of Economic Education. 37 (1): 3-20. Mundlak, Yair. 1978. "On the Pooling of Time Series and Cross Section Data." Econometrica. 46 (1): 69-85. Noser, Thomas C., Herman Manakyan, and John R. Tanner. 1996. "Research Productivity and Perceived Teaching Effectiveness: A Survey of Economics Faculty." Research in Higher Education. 37 (3): 299-321. Porter, Stephen R., and Paul D. Umbach. 2001. "Analyzing Faculty Workload Data Using Multilevel Modeling." Research in Higher Education. 42 (2): 171-196. Shin, Jung C. 2011. "Teaching and Research Nexuses across Faculty Career Stage, Ability and Affiliated Discipline in a South Korean Research University." Studies in Higher Education. 36 (4): 485-503. Spiller, Pablo T., and Bennet A. Zelner. 1997. "Product Complementarities, Capabilities and Governance: A Dynamic Transaction Cost Perspective." Industrial and Corporate Change. 6 (3): 561-594. Stack, Steven. 2003. "Research Productivity and Student Evaluation of Teaching in Social Science Classes: A Research Note." Research in Higher Education. 44 (5): 539-556. Verburgh, Jan E., and Sari Lindblom-Ylänne. 2007. "Investigating the Myth of the Relationship between Teaching and Research in Higher Education: A Review of Empirical Research." Studies in the Philosophy of Education. 26 (5): 449-465. Vidal, Javier, and Miguel A. Quintanilla. 2000. "The Teaching and Research Relationship within an Institutional Evaluation." Higher Education. 40 (2): 217-229. Walstad, William, and Sam Allgood. 2005. "Views of Teaching and Research in Economics and Other Disciplines." American Economic Review. 95 (2): 177-183. Wooldridge, Jeffrey M. 2010. Econometric Analysis of Cross Section and Panel Data. 2nd edition, The MIT Press Cambridge, Massachussetts, London, England.