Publication:
Modelización 3D de la estructura, la cinemática y el comportamiento sismogénico del sistema de fallas de las Béticas Orientales : aplicación a la amenaza sísmica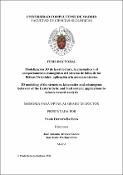 Authors
Advisors (or tutors)
Editors
Publisher
Universidad Complutense de Madrid
Abstract
Caracterizar la relación entre la ocurrencia de terremotos y la geometría tridimensional, cinemática y tasas de deformación de las fallas de una región activa es esencial para la valoración de la peligrosidad sísmica. En regiones con deformación lenta, el estudio de las fallas activas se complica debido a la baja disponibilidad de evidencias de actividad tectónica reciente, a menudo difusas o camufladas por los intensos procesos externos, y a un registro de sismicidad histórica escaso y poco preciso. El sistema de fallas de las Béticas Orientales (al que también nos referiremos como Zona de Cizalla de las Béticas Orientales), situado al sureste de la Península Ibérica y que forma parte de la Zona de Cizalla de Trans-Alborán, es un buen ejemplo de un sistema activo formado por fallas con bajas tasas de de formación (la mayoría inferiores a 1 mm/a). La falta de estimaciones de tasas de deslizamiento y otros parámetros sísmicos en algunas de sus secciones de falla, así como su moderada a baja sismicidad, han hecho que, a menudo, se infraestimara el potencial de estas fallas de generar terremotos importantes. El terremoto de MW 5.1 ocurrido en Lorca en Mayo del 2011, asociado a este sistema de fallas y causante de víctimas y cuantiosos daños materiales, puso de manifiesto la necesidad de profundizar en el conocimiento del comportamiento sismogénico de estas fallas. Esta Tesis Doctoral aborda el estudio del sistema de fallas de las Béticas Orientales a diferentes escalas, centrándose en su estructura tridimensional, la estimación de tasas de deformación y la interacción de las estructuras, evaluando como afectaran a la distribución espacio-temporal de la sismicidad regional a largo plazo...
Characterizing the relationship between the occurrence of earthquakes and the threedimensional geometry, kinematics and deformation rates of the faults of an active region is essential for the seismic hazard assessment. In areas with slow deformation, the study of active faults is complex due to the scarce evidence of recent tectonic activity, often vague or covered by intense surface processes, and a limited and inaccurate historical seismic record. The Eastern Betic Fault System (also known as the Eastern Betic Shear Zone), is located southeast of the Iberian Peninsula and belongs to the Trans-Alboran Shear Zone. It is a good example of an active system formed by faults with low deformation rates (mostly, less than 1 mm/yr). The lack of slip-rates and other kinematic data in some of their fault sections, as well as their moderate to low seismicity, have often led to an underestimation of the seismogenic potential of these faults to generate major earthquakes. The MW 5.1 Lorca earthquake that occurred in May 2011, associated with this fault system and causing fatalities and significant material damage, revealed the urgent need to going into detail about the seismogenic behavior of these faults. This dissertation addresses the study of the Eastern Betic Fault System at different scales, focusing on its 3D structure, the estimation of deformation rates and the fault interactions, and evaluating how the latter influence the spatio-temporal distribution of long-term seismicity.
Description
esis inédita de la Universidad Complutense de Madrid, Facultad de Ciencias Geológicas, leída el 03-02-2022
Collections