Publication:
Evolución de los factores de riesgo dinámicos en función del historial delictivo de menores infractores de la Comunidad de Madrid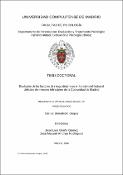 Files
Authors
Advisors (or tutors)
Editors
Publisher
Universidad Complutense de Madrid
Abstract
En el momento actual nos encontramos desde el ámbito de la justicia juvenil, con la necesidad de mejorar las estrategias de abordaje que permitan minimizar el riesgo de conductas desviadas futuras, contribuyendo de este modo a la disminución de la delincuencia futura y su victimización asociada. Una de las formas en que podemos enmarcar mejor su situación es a través del criterio de la reincidencia delictiva y su valoración, y ello conlleva conocer muy bien todos aquellos factores estáticos o dinámicos que se asocian a la misma. De este modo, no sólo podremos valorar la posibilidad de reincidencia, si no que estaremos en disposición de influir sobre aquellos factores dinámicos, susceptibles de modificación mediante la intervención que se plantee, haciendo que ésta sea más eficaz y eficiente, ajustándonos así a un modelo de justicia juvenil moderno y más actualizado (Graña, Garrido y González, 2007). Sobre la etiología de la conducta delictiva y su explicación causal, han sido multitud las corrientes teóricas y autores que han planteado diferentes planteamientos y clasificaciones para describir el fenómeno de la delincuencia juvenil. En primer lugar debemos tener en cuenta que las conductas desviadas, e incluso antisociales, aparecen en la gran mayoría de adolescentes, configurando un aspecto evolutivo que se ha llegado a considerar pasajero, diferenciándose claramente dos grupos de entre estos menores, los que llevan a cabo comportamientos antisociales circunscritos a la adolescencia y aquellos cuyos comportamientos antisociales persisten tras esta etapa (Frick, 2006; McLeod, Grove y Farrington, 2012; Moffit, 1993;1997). Algunas clasificaciones han tenido en cuenta aspectos basados en la conducta delictiva (infractores vs. no infractores o según la tipología delictiva), otras se han basado en los síntomas clínicos o las clasificaciones diagnósticas, o han tenido en cuenta los rasgos de personalidad (Eysenck, 1964; Frick, 2006; Lykken, 1995; Millon, 1993; Quay, 1995)...
We are currently working in the area of juvenile justice, where there is a need to improve approach strategies that allow the risk of future deviant behaviour to be minimised, thereby contributing to decreasing future crime and its associated victimisation. One of the ways in which we can better delimit the situation is by using and evaluating the criteria of repeat offending, involving in-depth knowledge of all of its associated static and dynamic factors. Using this method, it is not only possible to assess the likelihood of repeat offending, but it will also put us in a position where we can have an influence on those dynamic factors that can be modified by the proposed intervention, making it more effective and efficient and, thereby, adapting ourselves to a more modern and up-to-date juvenile justice model (Graña, Garrido and González, 2007). In terms of the aetiology of criminal behaviour and explanations of its causes, there are currently many theories and authors who have come up with a range of approaches and classifications to describe the phenomenon of juvenile crime. It should first be taken into account that deviant and even anti-social behaviour appear in the vast majority of teenagers, taking the form of an evolutionary aspect that has come to be considered as temporary. These minors can be split up into two distinct groups; those who display anti-social behaviour confined to adolescence, and those whose anti-social behaviour persists after this phase (Frick, 2006; McLeod, Grove and Farrington, 2012; Moffit, 1993;1997). Some classifications have taken into account criminal behaviour type aspects (offenders vs. non-offenders, or based on the type of crime); others have been based on clinical symptoms or diagnostic classifications, or have taken personality traits into consideration (Eysenck, 1964; Frick, 2006; Lykken, 1995; Millon, 1993; Quay, 1995)...
Description
Tesis inédita de la Universidad Complutense de Madrid, Facultad de Psicología, Departamento de Personalidad, Evaluación y Tratamiento Psicológico I (Personalidad, Evaluación y Psicología Clínica), leída el 04-12-2015
Collections