Publication:
Treinta años del fin de la Unión Soviética y del Pacto de Varsovia: mitos y realidades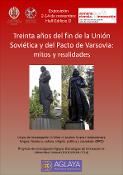 Authors
Pérez del Pozo, María Josefa
Hermida de Blas, Alejandro
Advisors (or tutors)
Editors
Abstract
Algunos de los relatos míticos de la Unión Soviética siguen vigentes treinta años después, como veremos en la exposición.
Some of the mythical narratives related to the end of the Soviet Union are still in effect thirty years later, as we will see in the poster exhibition.
Description
Esta exposición es un resultado del grupo de investigación 970844 "Estudios Rusos Complutenses (ERC): Lengua, Literatura, Cultura, Religión, Política y Sociedad" y del proyecto de investigación "Aglaya: Estrategias de innovación en mitocrítica cultural" (H2019/HUM-5714).