Publication:
Seres "humanos" o seres "lejanos": imágenes de violencia real e implicación/distanciamiento con las víctimas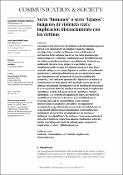 Advisors (or tutors)
Editors
Publisher
Universidad de Navarra. Escuela de Comunicación.
Abstract
Las imágenes de violencia real emitidas en los informativos pueden afectar a los espectadores de múltiples maneras. Algunas investigaciones señalan la distancia e insensibilización al sufrimiento de las víctimas, mientras que otras apuntan a que ciertas imágenes y emisiones pueden provocar identificación con las victimas e implicación ética en su sufrimiento. Mediante un análisis del discurso de 16 grupos de espectadores que visualizaron varias escenas de violencia real grave y muy grave ocurrida en lugares cercanos y lejanos, se analizan y describen los argumentos y estrategias discursivas que los espectadores usan para fundamentar sus actitudes de distancia o implicación emocional. Los resultados apuntan a las siguientes cuestiones: a) La dimensión cercanía/lejanía del espectador con respecto a la victimas relacionada directamente con la implicación emocional; b) se detectan dos tipos de implicación emocional: la implicación espontanea, basada en la percepción de similitud o empatía espontanea y la derivada de argumentos éticos, en razones de sensibilidad al malestar de los otros, (la sensibilidad ante la desprotección, ante la vulnerabilidad y ante el abuso interpersonal; c) asimismo se describen los argumentos desimplicativos que distancian al espectador del sufrimiento: la negación del sufrimiento o la información, la normalización y rutinización de los hechos presenciados en las escenas la atribución de culpabilidad a las víctimas y la incomprensión de la situación. Finalmente extraemos algunas conclusiones sobre las formas más idóneas de emitir la violencia para promover la implicación y reducir el distanciamiento.
This work is situated in recent research on the utility or unsuitability of broadcasting factual violence in TV news programmes, as well as the diverse ways of presenting it. Its aim is to discover and make explicit the evaluative-moral mechanisms that sustain the basis of the attitudes of distance vs. implication of audiences to diverse types of factual violence broadcasted in the mass media. On the basis of a discourse analysis of 16 focus groups that were shown violent scenes with diverse degrees of gravity, in a close vs. distant (to participants) geographic context, we describe the discursive strategies that participants use to feel involved in the suffering of the victims of violence or, on the contrary, to detach or estrange themselves. The results show a spontaneous identification and an ethical identification that is related to emotional and moral implication. Additionally, diverse mechanisms of estrangement are evident, such as denying the facts presented in the images and attributing responsibility to the victims. The implications that these strategies have in the moral debate on violence are discussed.
Collections