Publication:
Diseño de un modelo didáctico para la enseñanza y aprendizaje de conceptos clave de las Ciencias Sociales dirigido a estudiantes del Máster en Formación del Profesorado de la especialidad de Geografía, Historia e Historia del Arte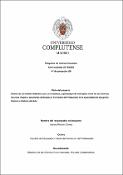 Advisors (or tutors)
Editors
Abstract
Se plantea el diseño de un modelo didáctico para explicar los conceptos políticos y sociales tomando como base las aportaciones procedentes de la Historia de los conceptos alemana (la Begriffgeschichte de Reinhart Koselleck) sobre los estratos temporales de los conceptos y las diferentes resignificaciones producidas en ellos a lo largo del tiempo, así como las de la Historia de las ideas políticas desarrollada por la Escuela de Cambridge sobre sus usos contextuales. En dicho modelo se planteaba su análisis desde el doble plano de la sincronía y la diacronía sin perder de vista los aspectos pragmáticos en los que incide la Escuela de Cambridge.
The design of a didactic model is proposed to explain political and social concepts based on the contributions from the History of concepts. German (Reinhart Koselleck's Begriffgeschichte) on the temporal strata of the concepts and the different resignifications produced in them over time, as well as those of the History of political ideas developed by the Cambridge School on its contextual uses. In this model, its analysis was considered from the double plane of synchrony and diachrony without losing sight of the pragmatic aspects that the School of Cambridge.
Description
Parte de los resultados obtenidos en este proyecto junto al anterior del que es continuación se han publicado en la obra Rivière, A. (coord.) (2020). Hacia una enseñanza de la historia renovada. Reflexiones críticas y propuestas didácticas. Madrid: ACCI