Publication:
Conservation management of the Aalenian stage GSSP in Fuentelsaz (Castilla-La Mancha, Spain)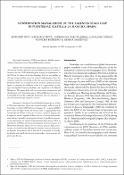 Authors
Herrero Matesanz, Concepción
Advisors (or tutors)
Editors
Publisher
Università degli studi di Milano. Dipartimento di Scienze della Terra "A. Desio"
Abstract
Abstract. The Global Boundary Stratotype Section and Point ol the Toarcian-Aalenian Boundary (Lower-Middle Jurassic) in Fuentelsaz Section is the first GSSP defined in Spain. Among the requirements ol the ICS lor the choice of the best boundary level are accessibility to the type-section and free access for research, and guarantees Irom the respective authority concerning to the free access and the permanent protection of the site. In our point of view, the most suitable protection ligure to safeguard the fulfilment of the ICS's requirements according to the Spanish Conservation Policy and Legislation is the Nacural Monument. This paper deals with the conservation management and classification of the Fuentelsaz area as a Natural Monument, being the Comunidad de Castilla-La Mancha Authorities the ones that have to take the necessary steps to protect the site. [RIASSUNTO] La Sezione e Punto Globale di Stratotipo per II limite Toarciano-Aaleniano (Giurassico inleriore-medio) nella Sezione di Fuentelsaz e il primo GSSP definite* in Spagna. Tra i requisiti dell'ICS per la scelta del miglior livello del limite ci sono la raggiungibilita della sezionc-tipo ed il libero accesso per la ricerca, e garanzie da parte delle rispettive autorita riguardo il libero accesso e la protezione permanente del sito. Secondo il nostro punto di vista, il profilo di protezione piti appropriate* per tutelare I'adempimento delle richieste ICS, in accordo con la Politica c Lcgislazione Spagnola di Conservazione, e il Monumento Naturale. Questo lavoro t r a i n la gesiione della conservazione e la classificazione dell'area di Fuentelsaz come un Monumento Naturale, dal niomcnio chc le Autorita di Comunidad de Castilla- La Mancha sono quelle chc devono intraprendere i passi necessari alia protezione del sito.
Collections