Publication:
La mirada moral sobre la violencia en televisión. Un análisis de los discursos de los espectadores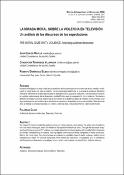 Advisors (or tutors)
Editors
Publisher
Instituto de Estudios Sociales Avanzados (CSIC)
Abstract
Nuestra investigación busca incluir las perspectivas de la audiencia sobre la violencia de los medios, enfatizando el papel activo de esta en relación con los mensajes mediáticos, al igual que la Audience Reception Research. Mediante el análisis de discurso se analizaron ocho grupos de discusión y los resultados muestran la cualidad estructurante de la dimensión realidad/ficción para la comprensión de la violencia. Se destaca también la mirada moral que caracteriza la orientación de la audiencia hacia la violencia en los medios, pues algunas formas de ver la violencia en televisión se consideran aceptables y otros inaceptables. Todo depende de si la mirada se articula respecto a la víctima, violencia real, o respecto al héroe, violencia de ficción.
Our research tries to include the audience views on media violence, emphasizing the active role of audience vis-à vis media messages, much like Audience Reception Research has done. Through the discourse analysis of eight focus groups on TV violence, our results show the structuring quality of the reality/fiction dimension for viewers' understanding of violence. Also highlighted is the important moral component of these discourses, that is, the moral gaze that characterizes an audience's orientation toward media violence, making some orientations to watch TV violence acceptable, while others are considered unacceptable and, in connection with the previous dimension, is developed around victim, real violence, or around hero, fictional violence.
Collections