Publication:
Efecto del tratamiento de altas presiones hidrostáticas y del almacenamiento sobre la seguridad y la calidad nutricional, sensorial y funcional de smoothies como alternativa a las bebidas mixtas comerciales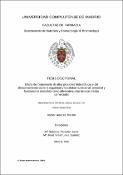 Files
Authors
Advisors (or tutors)
Editors
Publisher
Universidad Complutense de Madrid
Abstract
El consumidor actual, cada vez más concienciado de la estrecha relación entre la alimentación y la salud, busca alimentos mínimamente procesados, apetecibles, de fácil consumo y con propiedades funcionales. En este sentido, las bebidas refrescantes mixtas y los smoothies suponen una opción para satisfacer estas necesidades. Además, la aplicación de tecnologías de conservación alternativas a la pasteurización tradicional, entre las que destacan las altas presiones hidrostáticas, constituye una revolución en la industria alimentaria, al obtenerse productos seguros que conservan las características funcionales, nutricionales y sensoriales de los alimentos frescos. El objetivo principal de esta Tesis Doctoral consiste en la evaluación del efecto de las altas presiones hidrostáticas aplicadas a smoothies elaborados con leche de vaca y leche de soja así como su modificación durante la vida comercial, bajo la premisa de tratarse de una tecnología más idónea que la tradicional pasteurización con que se procesan los zumos y las bebidas refrescantes mixtas. El fin último es alcanzar un mayor grado de conocimiento en relación a estos nuevos productos y procesos con objeto de establecer futuras guías de normalización, ya que en la actualidad el reconocimiento legal no es claro ni preciso. Previamente se lleva a cabo un estudio de mercado y caracterización de veinticuatro bebidas refrescantes mixtas comerciales a base de fruta y leche o soja como base sobre la que desarrollar las formulaciones de smoothies. Para evaluar el efecto de las altas presiones se desarrollaron dos prototipos de smoothies mixtos con productos vegetales (naranja, papaya, melón y zanahoria) por su aporte de compuestos bioactivos con elevado potencial saludable, a los que se les añadió leche de vaca o leche de soja. Las bebidas elaboradas con leche de vaca fueron sometidas a dos intensidades de presión: 450 y 600 MPa, y las formuladas con leche de soja a 550 y 650 MPa. En todos los casos el tiempo y temperatura se mantuvieron constantes: 3 minutos y 20 ºC. Para comparar el impacto del tratamiento y del almacenamiento sobre las características evaluadas, los smoothies se sometieron paralelamente a un proceso convencional de pasteurización térmica a 80 ºC durante 3 minutos. También se ha considerado el efecto del almacenamiento en refrigeración a 4 ºC a lo largo de 45 días...
The current consumer is each more conscious about the close relationship between food and health and demands minimally-processed, palatable, easy-to-use, and functional food. In this sense, mixed-juice based beverages and smoothies represent an option to meet these requirements. Furthermore, the application of novel alternative technologies to traditional pasteurization, among which high hydrostatic pressure is, is a revolution in the food industry, by obtaining safe products that retain the functional, nutritional and sensory characteristics of fresh foods. The main objective of this thesis is to evaluate the effect of high hydrostatic pressures applied to smoothies made with cow's milk and soy milk and the modifications during the commercial life under the premise of being a more suitable technology than traditional pasteurization used for mixed-juice based beverages processing. The ultimate purpose is to achieve a greater degree of knowledge regarding these new products and processes to establish future guidelines of standardization as currently the legal recognition is not clear and accurate. Previously it is conducted a market study and characterization of twenty four commercial milk- and soy-juice based beverages as a base on which to develop the smoothieś formulations. To evaluate the effect of high pressure, two smoothieś prototypes were developed by mixing vegetable products (orange, papaya, melon, carrot) rich in bioactive compounds, and cow milk or soy milk. Drinks made with cow's milk were subjected to two intensities of pressure: 450 and 600 MPa, and those made with soy milk, to 550 and 650 MPa. In all cases the time and temperature were held constant: 3 minutes 20 ° C. To compare the impact of treatment and storage of the evaluated characteristics, the smoothies were subjected in parallel to a conventional heat pasteurization process at 80 ° C for 3 minutes. It has also considered the effect of refrigerated storage at 4 °C along 45 days. This paper has conducted a thorough investigation of these drinks from five points of view: general (pH, acidity, density, total soluble solids and color), nutritional (sugars, organic acids, minerals, anions and retinol), sensory (color, aroma, flavor, texture and overall acceptability), functional (carotenoids, tocopherols, ascorbic acid, polyphenols and antioxidant capacity associated with these compounds measured by the FRAP and DPPH mechanisms) and microbiological (aerobic mesophilic bacteria, Enterobacteriaceae, E. coli, L. monocytogenes, molds and yeasts). The methods have been validated to demonstrate its suitability for the intended purpose...
Description
Tesis inédita de la Universidad Complutense de Madrid, Facultad de Farmacia, Departamento de Nutrición y Bromatología II (Bromatología), leída el 28/01/2016. Tesis formato europeo (compendio de artículos)
Collections