Publication:
Mecanismos de gestión de escrituras en sistemas con tecnologías de memoria no volátiles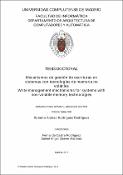 Files
Advisors (or tutors)
Editors
Publisher
Universidad Complutense de Madrid
Abstract
Since the beginning of computer systems, the memory subsystem has always been one of their essential components. However, the different pace of change between microprocessor and memory has become one of the greatest challenges that current designers have to address in order to develop more powerful computer systems. This problem, called memory gap, is further compounded by the limited scalability and the high energy consumption of conventional memory technologies (DRAM and SRAM), which has leaded to consider new non-volatile memory (NVM) technologies as potential candidates to replace them. Among NVMs, PCM and STT-RAM are currently postulated as the best alternatives. Although PCM and STT-RAM have significant advantages over DRAM and SRAM, they also suffer from some drawbacks that need to be mitigated before they can both be employed as memory technologies for the next computers generation. Notably, the slow and energy-hungry write operations on both technologies, and the limited endurance of PCM cells, which become unchangeable after performing a relatively reduced amount of writes on them, are the main constraints of PCM and STT-RAM technologies. This thesis presents two proposals aimed to efficiently manage the write operations on this kind of memories...
Desde el origen de los sistemas computacionales, el subsistema de memoria ha sido siempre uno de sus componentes fundamentales. Sin embargo, el diferente ritmo de evolución que han experimentado microprocesador y memoria se ha convertido en uno de los mayores desafíos que los diseñadores actuales deben abordar con el fin de desarrollar sistemas computacionales más potentes. A este problema, llamado brecha de memoria, se le suma la limitada escalabilidad y el elevado consumo de energía de las tecnologías de memoria convencionales (DRAM y SRAM), lo que ha llevado a considerar nuevas tecnologías de memoria no volátil (NVM por sus siglas en inglés) como posibles candidatas a reemplazar a las tecnologías convencionales. PCM y STT-RAM se postulan actualmente, entre las NVMs, como las mejores alternativas para ello. Aunque PCM y STT-RAM poseen ventajas significativas sobre DRAM y SRAM, también adolecen de algunos inconvenientes que deben ser mitigados antes de que puedan ser utilizadas como tecnologías de memoria en la próxima generación de computadores. En particular, el elevado coste de las operaciones de escritura sobre ambos tipos de tecnología (tanto en términos de consumo de energía como en términos de latencia), así como la limitada durabilidad de las celdas de memoria PCM, que se vuelven inmutables tras una cantidad de escrituras sobre las mismas relativamente reducida, constituyen los principales inconvenientes de las tecnologías PCM y STT-RAM. En esta tesis se presentan dos propuestas con el objetivo de gestionar de forma eficiente las escrituras sobre estos tipos de memoria...
Description
Tesis inédita de la Universidad Complutense de Madrid, Facultad de Informática, Departamento de Arquitectura de Computadores y Automática, leída el 18/11/2016
Collections