Publication:
Multiwavelength optical observations of two chromospherically active binary systems: v789 mon and gz leo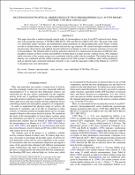 Advisors (or tutors)
Editors
Abstract
This paper describes a multiwavelength optical study of chromospheres in two X-ray/EUV-selected active binary stars with strong H alpha emission, V789 Mon (2RE J0725-002) and GZ Leo (2RE J1101+223). The goal of the study is to determine radial velocities and fundamental stellar parameters in chromospherically active binary systems in order to include them in the activity-rotation and activity-age relations. We carried out high-resolution echelle spectroscopic observations and applied spectral-subtraction technique in order to measure emission excesses due to chromosphere. The detailed study of activity indicators allowed us to characterize the presence of different chromospheric features in these systems and enabled to include them in a larger activity-rotation survey. We computed radial velocities of the systems using cross-correlation with the radial velocity standards. The double-line spectral binarity was confirmed and the orbital solutions improved for both systems. In addition, other stellar parameters such as spectral types, projected rotational velocities (v sin i) and the equivalent width of the lithium Li i λ6707.8 Å absorption line were determined.
Description
© 2009. The American Astronomical Society. All rights reserved. This work was supported by the Spanish "Programa Nacional de Astronomía y Astrofísica" under grants AYA2005-02750 and AYA2008-00695, and the "Comunidad de Madrid" under PRICIT project S-0505/ESP-0237 (ASTROCAM).
Citation
Arévalo, M. J., & Lázaro, C. 1999, AJ, 118, 1015 Barden, S. C. 1985, ApJ, 295, 162 Beavers, W. I., Eitter, J. J., Ketelsen, D. A., & Oesper, D. A. 1979, PASP, 91, 698 Buzasi, D. L. 1989, PhD thesis, Pennsylvania State Univ. Chester, M. M. 1991, PhD thesis, Pennsylvania State Univ. Cutispoto, G., Pastori, L., Tagliaferri, G., Messina, S., & Pallavicini, R. 1999, A&AS, 138, 87 Eggen, O. J. 1984, ApJS, 55, 597 Eggen, O. J. 1989, PASP, 101, 366 ESA 1997, The Hipparcos and Tycho Catalogues, ESA SP-1200 Favata, F., Barbera, M., Micela, G., & Sciortino, S. 1993, A&A, 277, 428 Fekel, F. C., Bopp, B. W., Africano, J. L., Goodrich, B. D., Palmer, L. H., Quigley, R., & Simon, T. 1986, AJ, 92, 1150 Fekel, F. C., & Henry, G. W. 2000, ApJ, 120, 3265 Gálvez, M. C. 2005, PhD thesis, Universidad Complutense de Madrid Gálvez, M. C., Montes, D., Fernández Figueroa, M. J., López Santiago, J., De Castro, E., & Cornide, M. 2002, A&A, 389, 524 (Paper IV) Gálvez, M. C., Montes, D., Ramsey, L. W., Fernández Figueroa, M. J., De Castro, E., & Cornide, M. 2003, in Proc. 5th Scientific Meeting of the Spanish Astronomical Society (SEA), Highlights of Spanish Astrophysics III, ed. J. Gallego, J. Zamorano, & N. Cardiel (Dordrecht: Kluwer) 474 Gálvez, M. C., Montes, D., Fernández Figueroa, M. J., De Castro, E., & Cornide, M. 2007, A&A, 472, 587 (Paper V) Hall, J. C. 1996, PASP, 108, 313 Hall, J. C., & Ramsey, L. W. 1992, AJ, 104, 1942 Høg, E., et al. 2000, A&A, 355, L27 Jeffries, R. D., Bertram, D., & Spurgeon, B. R. 1995, MNRAS, 276, 397 López Santiago, J., Montes, D., Fernández Figueroa, M. J., & Ramsey, L. W. 2003, A&A, 411, 489 Montes, D., De Castro, E., Fernández Figueroa, M. J., & Cornide, M. 1995, A&AS, 114, 287 Montes, D., Fernández Figueroa, M. J., De Castro, E., Cornide, M., Latorre, A., & Sanz Forcada, J. 2000, A&AS, 146, 103 (Paper III) Montes, D., Fernández Figueroa, M. J., De Castro, E., & Sanz Forcada, J. 1997, A&AS, 125, 263 (Paper I) Montes, D., López Santiago, J., Fernández Figueroa, M. J., & Gálvez, M. C. 2001a, A&A, 379, 976 Montes, D., López Santiago, J., Gálvez, M. C., Fernández Figueroa, M. J., De Castro, E., & Cornide, M. 2001b, MNRAS, 328, 45 Montes, D., Sanz Forcada, J., Fernández Figueroa, M. J., De Castro, E., & Poncet, A. 1998, A&A, 330, 155 (Paper II) Pandey, J. C., Singh, K. P., Drake, S. A., & Sagar, R. 2005, AJ, 130, 1231 Pandey, J. C., Singh, K. P., Sagar, R., & Drake, S. A. 2002,J. Astrophys. Astron., 23, 9 Popper, D. M. 1996, ApJSS, 106, 133 Press, W. H., Flannery, B. P., & Teukolsky, S. A. 1986, Numerical Recipes. The Art of Scientific Computing (Cambridge: Cambridge Univ. Press) Robb, R. M., & Gladders, M. D. 1996, IAU, 4412 Schmidt-Kaler, T. 1982, in Landolt–Börnstein,Vol. 2b, ed. K. Schaifers & H. H. Voig (Heidelberg: Springer) Strassmeier, K. G., Washuettl, A., Granzer, Th., Scheck, M., & Weber, M. 2000, A&AS, 142, 275 Tonry, J., & Davis, M. 1979, AJ, 84, 1511
Collections