Publication:
Taller de problemas en Educación Infantil: Una iniciación constructivista al aprendizaje numérico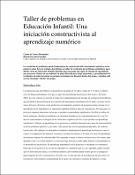 Advisors (or tutors)
Editors
Abstract
La resolución de problemas puede fundamentar la construcción del conocimiento numérico en los primeros años. En este trabajo, describimos un taller de resolución de problemas aritméticos para último curso de Educación Infantil, diseñado para un grupo que sigue un método de aprendizaje por proyectos. Dentro de un ambiente de plena libertad para elegir materiales y procedimientos de resolución, los niños inventan sus propias estrategias, las discuten dentro del grupo, y deciden cuál será la estrategia "oficial" del grupo.
Citation
Carpenter, T. P., Fennema, E., Franke, M. L., Levi, L., & Empson, S. B. (1999). Children's mathematics: Cognitively guided instruction. Portsmouth: Heinemann. Copley, J. V. (2000). The young child and mathematics. Washington-Reston: NAEYC-NCTM. De Castro, C., y Escorial, B. (2005). Aprendiendo matemáticas a través de proyectos: Una experiencia inspirada en el enfoque de Reggio Emilia. En E. Rodrigues (Coord.), Actas do I Congresso Internacional de Aprendizagem na Educação de Infância - CIANEI (pp. 139-150). Porto: Gailivro. Warfield, J., & Yttri, M. J. (1999). Cognitively guided instruction in one kindergarten classroom. In J. Copley (Ed.), Mathematics in the early years (pp. 103-111). Reston-Washington: NCTM-NAEYC.
Collections