Publication:
Integrated Affinity Biosensing Platforms on Screen-Printed Electrodes Electrografted with Diazonium Salts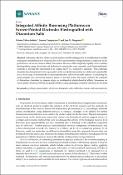 Advisors (or tutors)
Editors
Abstract
Adequate selection of the electrode surface and the strategies for its modification to enable subsequent immobilization of biomolecules and/or nanomaterials integration play a major role in the performance of electrochemical affinity biosensors. Because of the simplicity, rapidity and versatility, electrografting using diazonium salt reduction is among the most currently used functionalization methods to provide the attachment of an organic layer to a conductive substrate. This particular chemistry has demonstrated to be a powerful tool to covalently immobilize in a stable and reproducible way a wide range of biomolecules or nanomaterials onto different electrode surfaces. Considering the great progress and interesting features arisen in the last years, this paper outlines the potential of diazonium chemistry to prepare single or multianalyte electrochemical affinity biosensors on screen-printed electrodes (SPEs) and points out the existing challenges and future directions in this field.
Collections