Publication:
La corresponsabilidad familiar en el reparto de tareas domésticas en los hogares de doble ingreso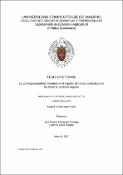 Files
Authors
Advisors (or tutors)
Editors
Publisher
Universidad Complutense de Madrid
Abstract
Durante las últimas décadas se ha producido en España una incorporación progresiva de la mujer al mercado laboral, que ha influido de manera decisiva en la estructura familiar, cuestionando la asignación tradicional de las tareas del hogar entre varones y mujeres. De acuerdo con esos supuestos, esta tesis plantea como objetivo general el análisis de la especialización de género en los hogares españoles, considerando la doble dimensión que presenta: por un lado, el reparto del tiempo diario entre el trabajo remunerado y las tareas domésticas, que se suele investigar desde la perspectiva de la Conciliación de la Vida Laboral y Familiar; por otro lado, la segregación en la realización de las tareas domésticas y familiares, estudiada desde la Corresponsabilidad familiar en el hogar. Los factores determinantes de ambos tipos de especialización son, en gran medida, compartidos y obedecen a razones tanto económicas (existencia de ventaja comparativa, coste de oportunidad y poder de negociación) como sociales y culturales (percepción individual de los roles de género asociados a la familia y al trabajo remunerado y economía de la identidad). Más concretamente, su ámbito de estudio se ciñe a los hogares españoles de doble ingreso, a los que se atribuye una mayor igualdad de género que frente al resto de hogares, calculando el grado de especialización de actividades entre varón y mujer y analizando la influencia de los factores más relevantes (edad, estudios, ingresos, uso del tiempo libre, así como la presencia de hijos en el hogar y de servicio doméstico)...
In recent decades, women have been progressively joining the job market in Spain. This has had a decisive influence on family structures, bringing into question how traditional household chores between men and women are allocated. According to these assumptions, the overall goal of this thesis is to analyze gender specialization in Spanish households. This analysis is two-fold: on the one hand, the time each day distributed between paid work and housework, which is usually investigated from the perspective of work -life balance; on the other, how household and family chores are broken down, studied from the perspective of family co-responsability at home. Both types of specialization share to a large extent the same determining factors and have both economic and socio-cultural reasons for being. Some of the economic are the existence of a comparative advantage, the opportunity cost and bargaining power. Social and cultural reasons include individual perceptions of gender roles associated with the family and paid work and identity economics. The scope of this study is specifically focused on dual income households in Spain (usually assumed to have greater gender equality than in other households), taking into consideration the level of the activity specialization between men and women and analyzing the influence of the most relevant factors (age, education, income, use of leisure time, presence of children at home and housekeeping)...
Description
Tesis inédita de la Universidad Complutense de Madrid, Facultad de Ciencias Económicas y Empresariales, Departamento de Economía Aplicada III (Política Económica), leída el 11-12-2015
Collections