Publication:
Desarrollo de la Escala de Actitudes Disfuncionales Traumáticas (EADT) para víctimas de terrorismo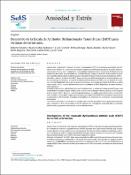 Advisors (or tutors)
Editors
Publisher
Sociedad Española para el Estudio de la Ansiedad y el Estrés (SEAS)
Abstract
Introducción y objetivos. El trastorno de estrés postraumático (TEPT) es el trastorno psicológico más frecuente en las víctimas del terrorismo. Los modelos cognitivos del TEPT postulan que las actitudes disfuncionales desempeñan un papel fundamental en su etiología, mantenimiento y tratamiento. El objetivo de este estudio fue desarrollar un instrumento de autoinforme para evaluar las actitudes disfuncionales traumáticas específicas de las víctimas del terrorismo: la Escala de Actitudes Disfuncionales Traumáticas (EADT). Materiales y método. Los ítems de la EADT fueron extraídos de 480 horas grabadas de terapia cognitivo-conductual centrada en el trauma aplicada a 59 víctimas del terrorismo con TEPT y tras un análisis del contenido e inteligibilidad de los ítems por un grupo de psicólogos. Una versión preliminar de 84 ítems se aplicó a una muestra de 253 víctimas del terrorismo junto con medidas de TEPT, depresión y actitudes disfuncionales depresivas. Resultados. Una serie de análisis factoriales y de fiabilidad sobre la versión preliminar permitió llegar a una versión definitiva compuesta por 34 ítems y tres factores correlacionados: mundo peligroso, visión negativa de la sociedad y del ser humano, y cronificación del malestar. Los análisis psicométricos de la versión definitiva revelaron buenos datos empíricos para la estructura interna de la EADT, la consistencia interna de sus puntuaciones, la diferenciación de grupos contrastados y las relaciones con constructos conceptualmente relacionados. Conclusiones. La EADT es un instrumento sencillo cuyas medidas presentan buenas propiedades psicométricas y pueden ser útiles para evaluar, tanto en contextos de investigación como aplicados, las actitudes disfuncionales que pueden presentar las víctimas del terrorismo.
Introduction and objectives. Post-traumatic stress disorder (PTSD) is the most common psychological disorder in victims of terrorism. Cognitive models of PTSD postulate that dysfunctional attitudes play a fundamental role in its etiology, maintenance, and treatment. The objective of this study was to develop a self-report instrument to assess traumatic dysfunctional attitudes typical of victims of terrorism: the Traumatic Dysfunctional Attitude Scale (EADT by its original Spanish acronym). Materials and method. The EADT items were extracted from 480 recorded hours of trauma focused cognitive-behavioral therapy administered to 59 victims of terrorism with PTSD and after an analysis of items' content and intelligibility by a group of psychologists. A preliminary 84-item version was administered to a sample of 253 victims of terrorism along with measures of PTSD, depression, and depressive dysfunctional attitudes. Results. A series of factorial and reliability analyses on the preliminary version allowed one to arrive at a definitive version composed of 34 items and three correlated factors: dangerous world, negative view of society and the human being, and chronicity of distress. The psychometric analyses of the definitive version revealed good evidence concerning the internal structure of the test, score internal consistency, the differentiation of known groups, and the relationships with conceptually related constructs. Conclusions. The EADT is a simple instrument whose scores have good psychometric properties and can be useful to assess, both in research and applied contexts, the dysfunctional attitudes that victims of terrorism may present.
Collections