Publication:
FREEZE SENSE : sensor IoT para monitorizar la cadena de frío en el transporte y almacenamiento de alimentos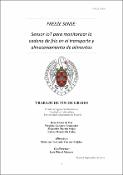 Advisors (or tutors)
Editors
Abstract
Mantener y asegurar la cadena del frío en el transporte de alimentos perecederos es uno de los aspectos más importantes que deben tener en cuenta las empresas de logística y cadenas de venta al consumidor. Con el control de la cadena del frío se puede asegurar tanto unos mínimos de calidad como de seguridad del producto en cuestión. Para asegurar el cumplimiento de la cadena de frío en el transporte de alimentos (o medicamentos) existen actualmente multitud de sistemas o dispositivos en el mercado que pueden cumplir perfectamente ese papel. Algunos de ellos son sistemas que únicamente informan al operario en destino si se ha producido una ruptura de la cadena del frío sirviendo como control de calidad previo a la venta de los alimentos, pero por el contrario otros sistemas sí que realizan un control exhaustivo de la cadena de frío en tiempo real dando una mayor capacidad de reacción a la empresa logística o cadena de venta para subsanar cuanto antes esa ruptura en la cadena del frío. Es este tipo de sistemas en el que se va a basar este proyecto. Por ello con la ayuda de la arquitectura IoT se mejorarán las principales ventajas que tienen este tipo de sistemas (funcionalidad) y disminuirán o incluso eliminarán las desventajas que tienen este tipo de sistemas, principalmente coste (objetivo más importante del proyecto) y dificultad de instalación.
Keep and ensure the cold chain transport of perishable food is one of the most important aspects to be considered by logistics companies and sales chain. Controlling the cold chain it can be ensured both a minimum quality and safety of the product. To ensure the compliance of the cold chain in food transport (or medicine), currently there are many systems or devices that can fulfill this role. Some of them are systems which only inform the operator at the arrival if there has been a breakdown in the cold chain serving as a previous sale quality control of the food, but there are others systems that perform an exhaustive cold chain control in real time giving greater foresight to the logistics company or sales chain as soon as possible to remedy this break in the cold chain. This project will be bases in this type of system. So, using the IoT architecture we will improve the main advantages that this type of system has (functionality) and decrease ore even eliminate their disadvantages, mainly the cost (most important objective of the project) and the difficulty of installation.
Description
Trabajo de Fin de Grado en Ingeniería Informática (Universidad Complutense, Facultad de Informática, curso 2015/2016)