Publication:
Ciudad y comunicación: gestión de la imagen de marca en distritos culturales y creativos. Análisis de los casos del Digbeth (Birmingham), el Barrio de St. George (Leicester) y el Ouseburn Valley (Newcastle Upon Tyne), en Reino Unido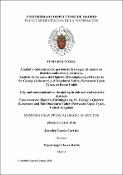 Files
Authors
Advisors (or tutors)
Editors
Publisher
Universidad Complutense de Madrid
Abstract
Esta Tesis Doctoral tiene como objeto de estudio los distritos culturales y creativos, entendidos como espacios en los que "un conjunto de actores económicos, no económicos e institucionales deciden utilizar algunos de los recursos compartidos, con objeto de desarrollar un proyecto común" (Lazzeretti, 2008, p. 328). Partiendo de este objeto de estudio, el objetivo principal de esta investigación es comprender los mecanismos de gestión de la imagen de marca-distrito. Para ello, se definen una serie de objetivos generales como son analizar diferentes ejemplos de planes de regeneración urbana; determinar la existencia o ausencia de planes de regeneración desarrollados específicamente para distritos; estudiar los elementos conformantes del carácter propio de estos espacios culturales y creativos y sus categorías de análisis; identificar los actores que actúan como catalizadores en estos distritos; establecer cómo se gestiona su imagen de marca; formalizar las condiciones necesarias para la sostenibilidad en el tiempo de estos espacios y, finalmente, diseñar y presentar un modelo genérico de gestión de la imagen de marca-distrito cultural y creativo...
This research aims to study cultural and creative districts, understanding them as spaces where "a set of economic, non-economic and institutional actors decide to use some of their shared resources to develop a common project" (Lazzeretti, 2008, p. 328). Namely, this research's main objective is to understand the mechanisms for district branding. To achieve this, a series of general objectives are defined, such as the analysis of different examples of urban regeneration plans; the recognition of the existence or absence of specific regeneration plans for districts; the study of the elements that make up the character of these cultural and creative spaces and their categories of analysis; the identification of catalysts in these districts; the study of how their brand images are managed; the formalization of the necessary conditions for the sustainability of these spaces over time and, finally, the design and presentation of a generic model for cultural and creative district branding...
Description
Tesis inédita de la Universidad Complutense de Madrid, Facultad de Ciencias de la Información, leída el 30-11-2020
Collections