Publication:
El post-rock en España: genealogía de sus parámetros musicales y discursivos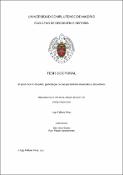 Files
Authors
Advisors (or tutors)
Editors
Publisher
Universidad Complutense de Madrid
Abstract
En esta tesis doctoral se analiza el desarrollo del post-rock en España desde su emergencia a principios de los 90 hasta la actualidad. El interés por este género musical viene de la rápida transformación de su significado. Así, si en un principio remite a bandas del entorno indie que subvierten las convenciones del rock tradicional por medio de una propuesta experimental que dialoga con la electrónica o el hip-hop, en la actualidad el género remite a propuestas de rock instrumental, cercanas al metal y el hardcore, articuladas alrededor de contrastes de intensidad. Con esto en mente, los principales objetivos de esta investigación son comprender la construcción de este género atendiendo a sus rasgos musicales y paramusicales; comprobar a qué se deben las múltiples rupturas, polémicas y omisiones que se encuentran en las historias sobre este género; evaluar la relación del post-rock con otros géneros, etilos y escenas; y determinar si se pueden hallar elementos que diferencien al post-rock español del extranjero. Adyacentemente, con esta investigación se pretende comprender mejor la configuración del campo musical en España desde los años 90 (con especial atención al papel de la crítica e internet) y contribuir al desarrollo de una teoría sobre los géneros musicales en las músicas populares urbanas capaz de reflejar sus transformaciones en el tiempo de manera flexible. Para llevar esto a cabo se ha adoptado un enfoque inspirado en la genealogía foucaultiana con el que se pretende entender el modo en el que los prototipos y atributos de un género se encuentran en constante negociación en los diferentes subcampos que articulan el campo de las músicas populares urbanas. Con esto en mente se ha determinado que en la década de los 90 el post-rock en España no solo se define en base a una serie de atributos musicales (construcción vertical por capas, alejamiento de las teleologías del rock tradicional, uso del estudio como instrumento…) o paramusicales (lo insustancial, el oxímoron…), adquiriendo gran importancia su capacidad de devenir un elemento de distinción en la escena indie local...
In this doctoral thesis it will be analysed the development of post-rock in Spain from its emergence in the early 90s to the present. The interest on this genre stems from the drastic transformation of its meaning. Thus, if initially referred to a series of bands, close to indie, that subverted the conventions of traditional rock with an experimental approach that dialogued with electronic dance music or hip-hop; nowadays the genre alludes to instrumental rock music, close to metal and hardcore, articulated by intensity contrasts. The main objectives of this investigation are to comprehend the construction of this genre focusing on its musical and paramusical traits; check the source of the multiple ruptures, polemics and omissions found in the histories of this genre; evaluate the relationship of post-rock with other genres, styles, and scenes; and determine if there could be found elements that differentiate post-rock in Spain from its development internationally. In addition to that, this research aims for a better understanding of the field of music in Spain from the 90s (with a special emphasis on the role of criticism and internet) and seeks to contribute to the development of a theory of popular music's genres able to reflect their transformations in time in a flexible way.In order to do this, an approach inspired by Foucauldian genealogy will be used. This will allow to understand the way in which the prototypes and attributes of a genre are in constant negotiation in the different subfields that articulate the field of popular music. With this in mind, it was determined that, in the 90s, post-rock is not only defined in Spain by a series of musical traits (vertical conception, estrangement from traditional rock's teleologies, use of the studio as an instrument…) or paramusical (the insubstantial, one and its opposite…), but by its ability to become an element of distinction within the local indie scene...
Description
Tesis inédita de la Universidad Complutense de Madrid, Facultad de Geografía e Historia, Departamento de Musicología, leída el 31/05/2022
Collections