Publication:
Aportación geoquímica al conocimiento de los materiales volcánicos del Cámbrico medio de Zafra-Feria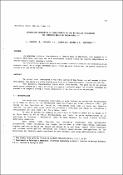 Advisors (or tutors)
Editors
Publisher
Universidade de Aveiro, Departamento de Geociências
Abstract
Los materiales volcánicos intercalados en el Cámbrico medio de Ossa Morena, bien expuestos en la alineación Zafra-Feria constituyen una serie moderadamente alcalina formada por basaltos plagioclásicos de ambiente submarino somero, traquitas y riolitas.
The volcanic rocks, interlayered in the middle Cambrian of Ossa Morena, are well exposed in the Zafra-Feria section. They belong to a midly alkaline suite built up by plagioclase basalts, trachytes and rhyolites.
Collections