Publication:
Extracción de información personal a partir de redes sociales para la creación de un libro de vida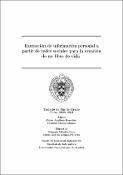 Advisors (or tutors)
Editors
Abstract
El deterioro cognitivo es una de las principales dolencias asociadas con la edad, caracterizado por problemas de memoria, lenguaje o pensamiento entre otros. Aunque lamentablemente, no existe una cura para este tipo de enfermedades, hay tratamientos como la terapia basada en reminiscencia, la cual ayuda a paliar los síntomas de este tipo de enfermedades. En este proyecto, nos proponemos realizar una herramienta para ayudar en terapias como esta. El proyecto consiste en la creación de una herramienta que ayude a los terapeutas ocupacionales a desarrollar un libro de vida para tratar a los pacientes con problemas de memoria. Para ello combinaremos técnicas de extracción y tratamiento de datos en diferentes redes sociales proporcionadas por el paciente, almacenándolas en una base de datos SQL y obteniendo así los datos más relevantes para la creación del libro, que se mostrara finalmente en una interfaz tipo web, desarrollada con React, donde se podrán visualizar fácilmente todos los datos que hemos recopilado. Para este proyecto vamos a usar la red social Facebook, combinando sus datos con diferente información extraída de Google. Para la interfaz, combinaremos tablas, con mapas, líneas de tiempo y galerías de fotos. Forma parte del proyecto CANTOR: Composición automática de narrativas personales como apoyo a terapia ocupacional basada en reminiscencia (PID2019-108927RB-I00), financiado por el Ministerio de Ciencia e Innovación, Plan Estatal de Investigación Científica y Técnica de Innovación 2017- 2020, en colaboración entre académicos en la Universidad Complutense de Madrid y la Universidad de La Coruña, que tiene como objetivo una mejora significativa en la eficacia de las terapias.
Cognitive impairment is one of the main conditions associated with advancing age, characterized by problems with memory, language or thinking, among others. Although unfortunately, there is no cure for this type of disease, there are treatments such as reminiscence-based therapy, which helps to mitigate the symptoms of this type of disease. In this project, we propose to develop a tool to help this type of therapies.The project consists in the creation of a tool that supports Occupational Therapists to develop a life book in order to treat patients with memory problems. To do this we will combine data extraction and processing techniques in different social networks provided by the patient, storing them in a SQL database and obtaining the most relevant data for the creation of the book, which will be finally displayed in a web interface, developed with React, where you can easily view all the data that we have collected. For this project we are going to use the social network Facebook, combining their data with different information extracted from Google. For the interface, we will combine charts, with maps, timelines and photo galleries. It is part of the project CANTOR: in spanish, Composición automática de narrativas personales como apoyo a terapia ocupacional basada en reminiscencia (PID2019-108927RB-I00), funded by the Ministry of Science and Innovation, State Plan for Scientific and Technical Research and Innovation 2017-2020, in collaboration between academics at the Complutense University of Madrid and the University of La Coruña, which aims at a significant improvement in the effectiveness of therapies.
Description
Trabajo de Fin de Grado en Ingeniería Informática, Facultad de Informática UCM, Departamento de Ingeniería del Software e Inteligencia Artificial, Curso 2020/2021, Los ficheros de GitHub de encuentran en el siguiente repositorio: https://github.com/NILGroup/TFG-2021-RedesSociales