Publication:
Positioning of Spanish Retailers. Perception of high frequency versus low frequency consumers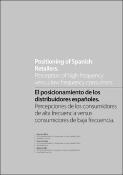 Advisors (or tutors)
Editors
Publisher
ESIC Business & Marketing School
Abstract
In today's highly competitive marketing environment, the positioning decision of retailers is one of the most important element of marketing management. Retailing positioning is an integrated management activity that takes in elements of the retail mix and is of critical importance for retailers and for manufacturers. Whereas consumer theory has traditionally place brand choice as the focus of the analysis, there is evidence that consumers are turning to shopping strategies rather than brand decisions. The objective of this research is to better understand the positioning of Spanish retailers analyzing the different perceptions between high frequency and low frequency consumers. Our results show the difficulties hypermarkets are facing to deliver a distinctive consumer proposition and the different perceptions on discounters accordingly to different types of consumers reflecting the need to deliver further benefits to consumers beyond pricing. On the other hand the overwhelming superiority of Mercadona is shown through their relevant price and store brands proposition leading consumer to perceive high level of service and consumer satisfaction.
Dada la alta competitividad existente en la actualidad en los mercados de gran consumo, la decisión de posicionamiento es una de las más importantes a las que los detallistas se enfrentan a la hora de determinar su estrategia competitiva en el mercado. Esta decisión es importante no sólo para los detallistas sino también para los fabricantes, porque aunque la literatura del comportamiento del consumidor suele enfocar su análisis en la elección de marca, existe en la actualidad una clara evidencia de que los consumidores deciden antes "dónde comprar" que "qué marca" comprar. El objetivo de esta investigación es profundizar en el posicionamiento de los detallistas en España, analizando las distintas percepciones existentes en el consumidor, distinguiendo entre consumidores de "alta frecuencia" o "habituales" y consumidores de "repertorio" o de "baja frecuencia". Nuestros resultados muestran las dificultades que los hipermercados tienen para transmitir un posicionamiento diferenciado y relevante al consumidor, y las diferentes percepciones de los discounters según los distintos tipos de consumidores, sugiriendo la necesidad de un reposicionamiento mas allá del puro precio. Por otra parte, se observa el abrumador dominio de Mercadona que ha sido capaz de posicionarse no sólo en precio sino en una oferta relevante de marca de distribuidor que la sitúa en altos niveles de satisfacción y percepción de servicio por parte de los consumidores.
Collections