Publication:
Un caso de estudio: La Fuga de Juan Bordes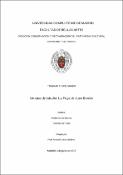 Authors
Advisors (or tutors)
Editors
Abstract
El siguiente trabajo versa sobre la propuesta de conservación – restauración de la escultura pública contemporánea, La Fuga (1985), de Juan Bordes del Museo al aire libre de Palomeras Bajas de Madrid. Le sigue un estudio histórico-documental y un exhaustivo análisis del estado de conservación, así como, un estudio del entorno de la pieza. La propuesta de intervención viene guiada por unos criterios de intervención de acuerdo con la deontología profesional, y haciendo un especial hincapié en los derechos morales del autor, también se incluye una entrevista con el artista. Por otro lado, se exponen los distintos métodos de análisis y pruebas que se pueden realizar previos a la intervención. Luego, se proponen una serie de tratamientos posibles para las distintas alteraciones de la obra. A su vez, se elabora un protocolo de actuación para la conservación preventiva y para la propuesta divulgativa del museo.
The following work deals with the proposal of conservation - restoration of contemporary public sculpture, La Fuga (1985), by Juan Bordes of the Palomeras Bajas Open Air Museum in Madrid. It is followed by a historical-documentary study and an exhaustive analysis of the state of conservation, as well as a study of the environment of the piece. The intervention proposal is guided by criteria of intervention in accordance with professional ethics, and with special emphasis on the moral rights of the author. An interview with the artist is also included. On the other hand, the different methods of analysis and tests that can be performed prior to the intervention are described. Then, a series of possible treatments are proposed for the different alterations of the work. At the same time, a protocol of action is drawn up for preventive conservation and for the museum's dissemination plan.