Publication:
El rol del profesor desde la perspectiva de los Espacios de Trabajo Matemático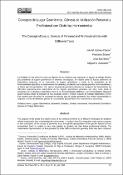 Advisors (or tutors)
Editors
Publisher
BOLEMA Departamento de Matematica
Abstract
La finalidad de este artículo es precisar algunos de los elementos que organizan un espacio de trabajo efectivo para problemas de lugares geométricos en entornos tecnológicos. Se explora como 52 futuros profesores de matemáticas progresan en su concepción de lugares geométricos a través de la apropiación de las funcionalidades específicas de cada entorno (herramienta), en relación con su propia práctica como estudiantes y su futuro ejercicio profesional. Con base en sistemas de geometría dinámica se comparan tres herramientas, las diferentes representaciones matemáticas de los lugares geométricos generadas por ellas, tanto desde la perspectiva de su dinámica matemática como de sus funcionalidades didácticas. Las funcionalidades didácticas proporcionadas desde el diseñador se han estudiado desde el modelo Espacio de Trabajo Matemático (ETM). Este modelo pone de relieve la necesidad de articular para el trabajo geométrico los niveles epistemológico y cognitivo a través de diferentes génesis de razonamiento (visual-discursiva, instrumental y discursiva).
In this article, the Mathematical Working Space model (MWS) is presented. It shows the dynamism of this model to reflect on the teacher's actions in the classroom and on the important elements to consider in their training. The MWS is built based on the mathematical knowledge and experience of the subject to do mathematics, hence the organization refers to two planes: The epistemological and the cognitive one, which will be the centre of the discussion in this work. Monographic contributions in the dynamics that are established in the role of the teacher in the knowledge and the interactions in the classroom are presented, from two points of view, from the teacher's training and from the teacher's role with the students.
Collections