Publication:
Determinantes de la aceptación del "mobile learning" como elemento de formación del capital humano en las organizaciones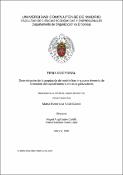 Files
Authors
Advisors (or tutors)
Editors
Publisher
Universidad Complutense de Madrid
Abstract
La revolución tecnológica ha modificado el modo de comunicarnos, realizar gran cantidad de transacciones, así como la forma de hacer negocios. Las organizaciones han tenido que adaptarse a los vertiginosos cambios y digitalizar gran parte de sus procesos productivos y operativa diaria (Messenger & Gschwind, 2016; Stone, Deadrick, Lukaszewski & Johnson, 2015). En su intento por obtener ventajas competitivas y un rendimiento empresarial mayor (Turulja & Bajgorić, 2016), las compañías invierten en activos intangibles mediante la generación de conocimiento (Hortovanyi & Ferincz, 2015). Es por ello que una de las áreas corporativas que se ha visto afectada por la emergente digitalización es la de la formación in-company. En este sentido, en las últimas décadas el e-learning se ha consolidado como una metodología formativa ampliamente utilizada por las compañías, respondiendo tanto a las necesidades empresariales como a las de los empleados. Si a ello le añadimos que actualmente prácticamente todos llevamos un dispositivo móvil que nos acompaña a donde quiera que vayamos (Little, 2013), que el mercado laboral cuenta con una fuerza de trabajo cada vez más digitalizada, y que con dichos dispositivos inalámbricos podemos realizar prácticamente las mismas operaciones que con un ordenador (Venkatesh, Thong & Xu, 2012), las organizaciones se encuentran ante la necesidad de ofrecer soluciones de aprendizaje en cualquier momento y lugar...
Technology revolution has changed the way we live, communicate, do endless transactions, and the way we do business. Organizations have had to get adapted to the vertiginous changes and digitize to a great extend their production processes and daily operations (Messenger & Gschwind, 2016; Stone et al., 2015). In their attempt to develop competitive advantages and greater business performance (Turulja & Bajgorić, 2016), companies invest in intangible assets through knowledge creation (Hortovanyi & Ferincz, 2015). Consequently, professional training has been one of the corporate areas affected by the growing digitalization. In this sense, in the last decades e-learning has been consolidated as a training methodology widely used by companies, since it meets both business and employees' needs. In addition, it must be considered that currently almost everybody has a mobile device, which they carry with them wherever they go (Little, 2013), that the labor market has an ever growing digital workforce, and that such mobile devices can perform almost the same functions than computers (Venkatesh et al., 2012). Thus, organizations face the need to offer learning solutions anytime, anywhere...
Description
Tesis inédita de la Universidad Complutense de Madrid, Facultad de Ciencias Económicas y Empresariales, Departamento de Organización de Empresas, leída el 30-06-2017
Collections