Publication:
La visibilidad en Internet de las instituciones universitarias: un enfoque metodológico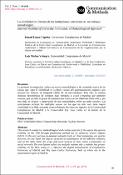 Advisors (or tutors)
Editors
Abstract
La presente investigación realiza un análisis metodológico y de contenido acerca de las causas que rigen la visibilidad en la Red a través del posicionamiento orgánico que realizan los motores de búsqueda (SEO) de las universidades. Para ello, se utilizan distintas herramientas de cómputo bajo demanda o cloud computing que permiten conocer, por un lado, el grado de optimización técnica de los diferentes sitios web y, por otro lado, el alcance y repercusión de sus comunidades online en redes sociales. Las conclusiones reflejan las múltiples causas por las que un sitio web tiene mayor visibilidad en la Red, tomando como referencia los entornos digitales de la Universidad Complutense de Madrid y la Universidad Rey Juan Carlos en el ámbito de la Comunidad de Madrid.
This research conducts a methodological and content analysis of the causes that govern visibility on the Web through positioning carried out by university search engines (SEO). To this end, various on-demand computer tools, or cloud computing, are used to discover, on one hand, the degree of technical optimisation of the different websites, and on the other hand, the scope and repercussions of their online communities on social networks The conclusions reflect the multiple reasons why a website has greater visibility on the Web, using as a reference the digital environments of Complutense University of Madrid and Rey Juan Carlos University, both of which are in the autonomous region of Madrid.
Collections