Publication:
Crisis and Welfare Society in Spain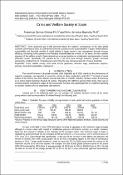 Advisors (or tutors)
Editors
Abstract
Some arguments are briefly presented about the negative consequences of the deep global economic and financial crisis of 2008 on the economic activity and the social situation in Spain. Reformulation, sustainability and financial viability of social welfare in Spain require a new management through resource efficiency, increasing market presence and initiative of stakeholders as a whole. In this sense, the main credible argument of the welfare social in Spain depends on a new perspective on socialization and generosity of social protection system. Specifically, the solution to the crisis must come through economic growth, increased productivity, employment and competitiveness and not by the way of increasing levels of social protection.
Citation
Ares and A. Gómez, F. (2008) Organizational Citizenship Behaviors and confidence in building teams. VII Congress State University School of Social Work, 9-11 April 2008. Granada (Spain). El País Press (2012): Economy Section. Pp.22, 30 October. Gómez, F. and García Gans, A.J. (2010): Citizens for Fuzzy Logic Techniques (TLD) on the right to the city. University School of Social Work at Gijón, Asturias, pp. 903-912. ISBN 978-84-693-1510-1. Gómez, F. and Herrador, F. (2009): "The Development of Social Work Education in Spain". European Journal of Social Work, nº 12:1. Routledge, pp. 113-117. ISSN 13691457. Gómez, F. and Ramírez, D. (2006): It Reforms and change the social equity of the Organizations With the method of the organizational representations. Reform and change in the social capital of organizations with the method of organizational representations. Bulletin of the Faculty of Education and Humanities. Postgraduate and Education Section. Antenor Orrego Private University. Trujillo, Peru. Year 0 (1), pp. 33-48. Herrador, F. (2002): "Theoretical approach to the phenomenon of unemployment: the case of long-term unemployment." Journal of the labour Ministry and Social Affairs. nº35, Pp.121-142. ISSN 1137-5868. Herrador, F. (2008): Social policy in Spain labour market. The origin of the process of Europeanization of policy to promote employment. Tirant Lo Blanch. Valencia. 334 pages. ISBN 978-84-9876-372-0. Herrador, F. and Rivera, J. M ª. (2010): "Reflections on the phenomenon of job insecurity." Journal of Labour Ministry and Immigration. Series Economics and Sociology, Nº. 86, Pp.75-90. ISSN 1137-5868. National Institute of Statistics (NIS) (2008-2013): Annual Wage Structure Survey. Madrid. NIS (2008-2012): Budget Survey of Families. Madrid. Social Security (2008-2013): Statistics pension. Madr Titmuss, R. (1981): Social Policy. Ariel. Barcelona. Youth Institute (2008-2013): Annual Reports of Youth. Ministry of Health, Social Services and Equality. Madrid.
Collections