Publication:
From the Street to Institutions through the App: Digitally Enabled Political Outcomes of the Spanish Indignados Movement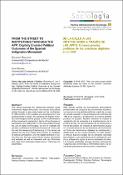 Advisors (or tutors)
Editors
Publisher
Instituto de Estudios Sociales y Avanzados ( CSIC)
Abstract
This article examines the relationship between social movements' digital democratic innovations and political parties through a case study based on the involvement of 15M activists in the creation and development of new political parties in Spain. By analyzing the impact of certain technological activist groups on the implementation of the movement's demands in terms of mechanisms of participation and deliberation in the new parties through the use of digital technologies, we aim to evaluate the activists' contribution to the transformation of formal politics and the deepening of democracy. In this sense, we explore the role of so-called 'tech activists' as mediators of political participation, and the digital repertoire of action they use. Sources used include various documents and websites as well as interviews with key informants and notes from participant observation in meetings and assemblies.
Este artículo analiza las innovaciones democráticas provenientes del campo de los movimientos sociales y su relación con los partidos políticos a partir de un caso de estudio centrado en la participación de activistas del 15M en la creación y el desarrollo de nuevos partidos políticos en España. Nuestra intención es evaluar la aportación de los activistas a la transformación de la política formal y la profundización de la democracia a través del análisis del impacto de determinados grupos en la implementación de las demandas del movimiento en forma de mecanismos digitales de participación y deliberación en los nuevos partidos. En este sentido, el artículo explora el papel de los llamados 'activistas tecnológicos' como mediadores de la participación política y el repertorio digital de acción empleado por ellos. Las fuentes analizadas incluyen diversos documentos y páginas web, entrevistas a informantes clave y la observación participante de reuniones y asambleas.
Collections