Publication:
Mejora del SGIC del centro: Análisis de la satisfacción de estudiantes con profesores y asignaturas, de egresados y empleadores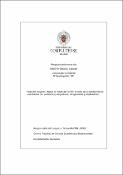 Advisors (or tutors)
Editors
Abstract
El objetivo del presente proyecto es poner de manifiesto el compromiso de la Facultad de Ciencias Económicas y Empresariales con la mejora continua de la calidad concretándose la propuesta de valor en la implementación de nuevas herramientas que permitan en mayor medida controlar, revisar y redefinir sus actuaciones según las necesidades y expectativas manifestadas por sus grupos de interés. En este caso se centra la atención en la recopilación y análisis de la percepción, que de las distintas titulaciones de las que la Facultad de Ciencias Económicas y Empresariales es responsable, tienen los estudiantes, los egresados y los empleadores.
The aim of this project is to demonstrate the commitment of the Faculty of Economics and Business Sciences to the continuous improvement of quality, specifying the value proposal in the implementation of new tools that allow a greater degree of control, review and redefinition of their actions according to the needs and expectations expressed by their stakeholders. In this case, attention is focused on the collection and analysis of the perception that students, graduates and employers have of the various degrees for which the Faculty of Economics and Business Studies is responsible.