Publication:
Actitudes y conocimiento de la Biodiversidad de la comunidad universitaria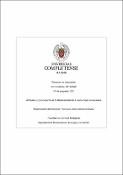 Advisors (or tutors)
Editors
Abstract
Proyecto de Innovación Docente 232 de la convocatoria 2019/2020. Se pretende conocer la actitud y los conocimientos generales de los usuarios del campus sobre la Biodiversidad, con el objetivo de mejorar la calidad docente en relación a ésta (proyectos ApS, asignaturas transversales y cursos relacionados).
Teaching Innovation Project 232 of the 2019/2020 call. The aim is to know the attitude and general knowledge of campus users about Biodiversity, with the aim of improving teaching quality in relation to it (Service-Learning projects, cross-curricular subjects and related courses).