Publication:
Los sistemas aluviales miocenos del borde noreste de la Cuenca de Madrid: sector Cifuentes - Las Inviernas (Guadalajara)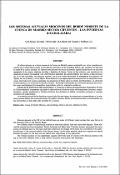 Files
Authors
García del Cura, M. Ángeles
Advisors (or tutors)
Editors
Publisher
Sociedad Geológica de España
Abstract
El relleno mioceno en el borde noreste de la Cuenca de Madrid aparece constituido por varios complejos detríticos que se desarrollan a partir de los relieves mesozoicos de la Cordillera Ibérica, que constituye en este área el borde de la cuenca terciaria. Se definen esencialmente dos tipos de sistemas deposicionales dentro de las áreas marginales de la cuenca: abanicos aluviales y depósitos de ladera. Dentro de los primeros, que constituyen los elementos de mayor envergadura y los contribuidores esenciales de material elástico a la cuenca, se han reconocido, en el área estudiada, tres abanicos mayores, que son en orden decreciente de envergadura los abanicos: del Tajuña, de Las Inviernas, y de La Tajera. Estos abanicos, cuyos ápices aparecen encajados en los materiales mesozoicos del borde de la Cuenca, presentan una gradación de facies elara en sentido proximal-distal. La ubicación de estos abanicos y su evolución en sentido proximal- distal está condicionada por características tanto estructurales como morfológicas del paleorrelieve desarrollado sobre los materiales cretácicos. Además de los abanicos aluviales mencionados, se reconocen y definen diversos sistemas de depósitos de ladera. Dichos depósitos se presentan tapizando el paleorrelieve en forma de cuñas elásticas gruesas (brechas y conglomerados) y gradan lateralmente a términos lutíticos. Los depósitos de ladera se presentan asociados a escarpes rectilíneos del paleorrelieve. La evolución vertical de los depósitos, en particular los que forman las sucesiones correspondientes a los abanicos, permite definir dos secuencias dentro del registro mioceno. Dichas secuencias son bien correlacionables con las reconocidas en áreas algo más centrales de la cuenca.
Miocene deposits in the NE of the Madrid basin are made of different clastic systems that were fed up by the mesozoic rocks of the Iberian Range. Two different kinds of depositional systems are described: alluvial fans and slope-scree deposits. Three alluvial fan systems have been recognized: Thjuña, Inviernas and Tajera fans. These fan systems represented the major points.of sediment input to the basin and their position in the margin of the basin was controlled by the paleomorphology of the mesozoic reliefs of the Iberian Range. On the other hand the slope-scree deposits are placed between the apexes of the fans and are re1ated with steep slopes of the. paleorelief. The vertical evolution of the sedimentary sequence shows the lack of activity of the alluvial systems at the top of the lower Vallesian when a wide shallow lacustrine environment was developed.
Collections