Publication:
La enseñanza jurídica mediante el aprendizaje basado en problemas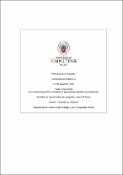 Advisors (or tutors)
Editors
Abstract
A través del Aprendizaje Basado en Problemas se trata de ofrecer al alumno un aprendizaje que, yendo más allá del aprendizaje memorístico, se centre en fomentar el desarrollo de una serie de competencias por parte de aquél que le permita una actuación más reflexiva y crítica de suerte que consiga activar la necesidad de adquirir un conocimiento previo, reconocer las dimensiones jurídicas y extrajurídicas del problema planteado, aprender a gestionar el tiempo de búsqueda de información así como la calidad y profundidad de esta última, capacitarlo para realizar un análisis crítico de la información y formular una o varias posibles soluciones al problema.
Through Problem-Based Learning, the aim is to offer the student a learning that, going beyond the rote learning, focuses on fostering the development of a series of competences by the one that allows a more reflective and critical performance of luck that manages to activate the need to acquire prior knowledge, recognize the legal and extra-legal dimensions of the problem posed, learn to manage the time to search for information as well as the quality and depth of the latter, enable it to perform a critical analysis of information and formulate one or several possible solutions to the problem.
À travers l'apprentissage par problèmes, l'objectif est d'offrir à l'étudiant un apprentissage qui, au-delà de l'apprentissage par cœur, vise à favoriser le développement d'une série de compétences par celle qui permet une performance plus réfléchie et plus critique de la chance. qui parvient à activer le besoin d'acquérir des connaissances préalables, à reconnaître les dimensions juridiques et extra-juridiques du problème posé, à gérer le temps nécessaire pour rechercher des informations ainsi que la qualité et la profondeur de celles-ci, lui permettant de réaliser une analyse critique des informations et formuler une ou plusieurs solutions possibles au problème.
Ziel des problembasierten Lernens ist es, den Schülern ein Lernen zu bieten, das über das reine Lernen hinaus darauf abzielt, die Entwicklung einer Reihe von Kompetenzen zu fördern, die eine reflektiertere und kritischere Leistung des Glücks ermöglichen das es schafft, die Notwendigkeit des Erwerbs von Vorwissen zu aktivieren, die rechtlichen und außerrechtlichen Dimensionen des gestellten Problems zu erkennen, die Zeit für die Suche nach Informationen sowie deren Qualität und Tiefe zu verwalten und eine kritische Analyse der Informationen durchzuführen Formulieren Sie eine oder mehrere mögliche Lösungen für das Problem.
Attraverso l'apprendimento basato sui problemi, l'obiettivo è quello di offrire allo studente un apprendimento che, andando oltre l'apprendimento meccanico, si concentri sulla promozione dello sviluppo di una serie di competenze da parte di colui che consente una performance più riflessiva e critica della fortuna che riesce ad attivare la necessità di acquisire conoscenze pregresse, riconoscere le dimensioni legali ed extra-legali del problema posto, imparare a gestire il tempo di ricerca delle informazioni e la qualità e profondità di queste ultime, consentirgli di eseguire un'analisi critica delle informazioni e formulare una o più soluzioni possibili al problema.