Publication:
Convivir con hijos dependientes y sin pareja: Estudios para la equiparación de los nuevos modelos de familias madrileñas.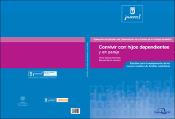 Advisors (or tutors)
Editors
Publisher
Ayuntamiento de Madrid. Dirección General de Infancia y Familia
Abstract
Investigación Aplicada que analiza las dinámicas de interacción por las que atraviesan las familias fragmentadas, separadas o en proceso de separación o divorcio. Ofrece un diagnóstico sobre las eventuales consecuencias que para la convivencia y socialización de los menores tienen estas modalidades de vida familiar. Y aporta un extenso repertorio de medidas y actuaciones para prevenir, disminuir o paliar las dificultades que padecen las familias monomarentales y monoparentales. La investigación se basa en metodologías cualitativas aplicando análisis de contenido de dinámicas de grupo. Los participantes en el estudio provienen de familias residentes en la Comunidad de Madrid. La selección de los mismos se realizó a partir de una muestra representativa de 4 mil familias, contenida en la Base de Datos generada en la Primera Encuesta Municipal sobre las Familias Madrileñas. Esta característica otorga a la investigación una gran consistencia y fiabilidad científica.
This is an Applied Research which analyses the iteraction dynamics faced by fragmented families, either separated or during the separation process or divorce. It offers a diagnosis about the possible consecuences that these types of family live have on cohabitation and socialisation. In order to prevent, reduce or alleviate the difficulties that single-mother or single-father families suffer from, an extensive repertoire of measures and proceedings are provided. The research is based on qualitative methodologies through an analysis content of the group dynamics. The participants of this study are from families living in the Community of Madrid. They were selected from a representative sample of four thousand families, conteined in the Data Base generated from the First Municipality Survey about Families of Madrid. This characteristic provides an excenllent consistency and scientific reliability on research.
UCM subjects
Antropología (Sociología)
,
Cambio social
,
Demografía (Sociología)
,
Estadísticas e indicadores sociales
,
Familia (Sociología)
,
Feminismo
,
Sociología urbana
,
Trabajo social (Sociología)
,
Investigación social
,
Familia (Trabajo Social)
,
Menores
,
Mujer
,
Mediación
,
Servicios sociales
,
Voluntariado
Collections