Publication:
Estudio de la variabilidad anatómica en la división terminal de la arteria poplítea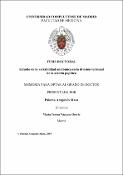 Files
Authors
Advisors (or tutors)
Editors
Publisher
Universidad Complutense de Madrid
Abstract
La arteria poplítea es la continuación de la arteria femoral. Comienza a nivel del hiato de Hunter y finaliza a nivel del borde inferior del músculo poplíteo, bifurcándose en sus dos ramas terminales; las arterias tibial anterior y posterior. La arteria peronea nace a partir de la arteria tibial posterior, distal a la bifurcación poplítea.La arteria poplítea en su división terminal presenta gran variabilidad anatómica; entre el 2% y el 21% según las fuentes. Las variables anatómicas a este nivel han sido clasificadas en múltiples ocasiones, siendo actualmente empleada la clasificación descrita por Kim.3. OBJETIVOS 1. Describir, mediante un estudio en cadáver, los patrones de bifurcación de la arteria poplítea. Encontrar si existe o no influencia del género y lado.2. Describir los diámetros de las arterias poplítea y sus ramas terminales, así como la longitud de la arteria tibial posterior proximal. Analizar si existen diferencias por género y lado.3. Estudiar la posible asociación entre la aparición de determinadas variables anatómicas y lesiones iatrogénicas vasculares durante procedimientos quirúrgicos...
Femoral artery continues as popliteal artery at the level of the adductor´s hiatus [Hunter's hiatus]. Popliteal artery ends at the distal border of popliteal muscle, where this artery bifurcates in two terminal branches; anterior tibial artery and posterior tibial artery. The fibular artery arises from posterior tibial artery distal to the popliteal bifurcation.The popliteal artery in its terminal division presents great anatomical variability; between 2% and 21% according to several sources.Variability in branching of the popliteal artery has been classified several times. Currently, the classification described by Kim (1989) is the most commonly used.3. OBJECTIVES 1. To describe the bifurcation patterns of the popliteal artery by performing a cadaver dissection study. Find whether or not there is influence of gender and side.2. To describe the diameters of the popliteal arteries and their terminal branches, as well as the length of the proximal posterior tibial artery, analysing if there are differences by gender and side...
Description
Tesis inédita de la Universidad Complutense de Madrid, Facultad de Medicina, leída el 22-11-2019
Collections