Publication:
Artesanía teatral: modelos de creación, organización y condiciones sociolaborales desplegadas en el panorama teatral madrileño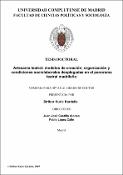 Files
Authors
Advisors (or tutors)
Editors
Publisher
Universidad Complutense de Madrid
Abstract
La investigación explora el contexto político y económico en el que se crea teatro en la ciudad de Madrid, las estrategias organizativas y productivas implementadas por compañías de teatro, y las condiciones laborales y experiencias subjetivas de actores y actrices sobre el terreno. Aunque los sectores creativos se identifiquen frecuentemente como uno de los principales motores de crecimiento y desarrollo de las economías contemporáneas, basándose en la innovación y la flexibilidad que les distingue, el trabajo creativo se caracteriza por salarios bajos y condiciones laborales precarias. Comprender las particularidades del trabajo teatral permite replantear esta contradicción y mejorar las condiciones y el valor de la fuerza de trabajo, no solo en el sector teatral sino también en otros sectores, creativos y no creativos, que cuentan con rasgos compartidos con el teatro. Desde esta perspectiva, la principal linea de la investigación busca desarrollar un marco conceptual y práctico desde el cual analizar este tipo de sectores productivos...
This research explores the political and economic context in which theatre is created in the city of Madrid, the organization and production strategies implemented by theatre companies and the working conditions and subjective experiences of actors and actresses in the field. Even though creative sectors are frequently argued to be one of the main motors for growth and development in contemporary economies, on the base of innovation and flexibility, creative work is characterised by low wages and precarious work conditions. Understanding the particularities of theatre work can help reframe this contradiction and improve the workers' conditions and value, not only in theatre work but also in other creative and not creative sectors with shared characteristics. From this perspective, the main question is to set up a conceptual and practical framework from which to analyse this type of productive sectors...
Description
Tesis inédita de la Universidad Complutense de Madrid, Facultad de Ciencias Políticas y Sociología, leída el 18/11/2019
Collections