Publication:
60 años de "Solaris" de Stanisław Lem: los límites de la ciencia y del conocimiento humano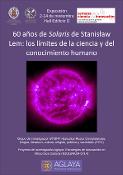 Advisors (or tutors)
Editors
Abstract
En esta exposición haremos un repaso de los distintos problemas científicos, epistemológicos, filosóficos y éticos suscitados por la novela "Solaris", así como de su repercusión en la cultura popular con sus diversas adaptaciones cinematográficas.
In this poster exhibition we will make a survey of the different scientific, epistemological, philosophical and ethical problems raised by the novel "Solaris", as well as their impact on popular culture with its diverse screen adaptations.
Description
Esta exposición es un resultado del grupo de investigación 970844 "Estudios Rusos Complutenses (ERC): Lengua, Literatura, Cultura, Religión, Política y Sociedad" y del proyecto de investigación "Aglaya: Estrategias de innovación en mitocrítica cultural" (H2019/HUM-5714).