Publication:
Poder e influencia política de una reina de España durante la Guerra de Sucesión: María Luisa Gabriela de Saboya, primera esposa de Felipe V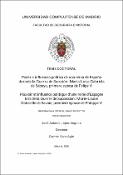 Files
Advisors (or tutors)
Editors
Publisher
Universidad Complutense de Madrid
Abstract
Desde una perspectiva general esta tesis se plantea como una aproximación a unos años concretos de la biografía de María Luisa de Saboya, primera esposa de Felipe V. Una etapa de la vida de la reina, que abarca el periodo 1701-1705, que estuvo dominada por las circunstancias derivadas de su proceso de adaptación tanto a la corte española como a su papel en calidad de consorte del primer Borbón. A lo largo del Antiguo Régimen las características de las uniones de la realeza europea, celebradas habitualmente entre miembros de diferentes dinastías, entrañaron la frecuente condición de extranjería de la soberana. Instalada en la patria de adopción, la nueva reina no solo había de aclimatarse a un entorno cuyos usos y costumbres solían ser diferentes de los de aquel en el que había crecido y se había educado. También debía iniciarse en el cumplimiento del ceremonial que regía en la corte de adopción y en el ejercicio de las diferentes manifestaciones que determinaban sus funciones como consorte del monarca. A este respecto, el caso de María Luisa de Saboya nos parece de interés en un doble sentido: en primer lugar, por el contexto de cambio dinástico y conflicto sucesorio en el que tuvo lugar su establecimiento en España. En segundo lugar, por la influencia que Francia ejerció sobre el gobierno y la corte españolas durante la Guerra de Sucesión y, de manera muy evidente, hasta 1709. Esta tesis aspira a desentrañar cómo influyeron este conjunto de factores en el proceso de adaptación de la primera consorte borbónica. A través de sus páginas insistiremos en las motivaciones que subyacieron bajo su elección como esposa de Felipe V; analizaremos el papel que desempeñaron el gabinete de Versalles y los miembros más destacados del entourage francés del rey en la adopción de algunas de las medidas de mayor relevancia del proceso de adaptación de la soberana (como la composición de la Casa de la nueva reina, la expulsión de su séquito piamontés o la designación de una camarera mayor de origen galo); y examinaremos cuáles fueron los aspectos que condicionaron las características de la imagen pública de María Luisa inmediatamente después de su establecimiento en la corte de adopción. Asimismo, otro de los objetivos de esta tesis es estudiar cómo evolucionó la influencia política de la reina durante el marco cronológico elegido. Para ello nos 12 detendremos en: a) el desarrollo de sus vínculos con Felipe V; b) la naturaleza de la relación de la reina con su camarera mayor, la princesa de los Ursinos; c) las causas de la inestabilidad que caracterizó a las relaciones francoespañolas entre 1703 y 1705; y d) las diferentes estrategias desarrolladas por la soberana y la princesa con el fin de consolidar su autoridad no solo en el contexto de inestabilidad referido sino también, a un más amplio espectro, en el eje Versalles-Madrid.
This thesis intends to analyze a certain period in the life of Maria Luisa Gabriela of Savoy, Philip V of Spain's first wife. The so said period comprises the years between 1701 and 1705 and it was influenced by the process of adaptation of the new Queen to the Spanish Court and her functions as consort of the King. During the Early Modern Period, royal marriages were celebrated between members of 13 different regnant dynasties. This circumstance involved, in most of the cases, the foreign condition of the consort who, when she arrived to their new country, must face a double challenge. In the first place, they should learn the uses and customs of their new kingdom. But also, they should learn how to behave themselves within the court etiquette. In order to comprehend better this process we must address to particular cases, and we think that the one concerning Maria Luisa Gabriela of Savoy offers a very interesting point of view. The Savoyard princess became queen of Spain in a significant political moment, characterized, firstly, by a context of dynastic change and succession war. And, secondly, by the strengthening of the French influence over the Spanish court and administration. The main goal of this dissertation is to unravel how these factors affected the adaptation process of Maria Luisa to her new country and her new role. In order to accomplish this objective we will focus the attention in the following topics. In the first place, we want to look the motivations that converted a Savoyard Princess into the first Bourbon Queen of Spain. Secondly we want to stress the role played by Versailles and Philip's French entourage in the adaption process of Maria Luisa. Their influence explained so many factors that affected Maria Luisa's first steps in the Spanish Court, as it was the composition of the Queen's Household; the dismissal of the princess' Savoyard entourage; or the election of a French woman as First Lady of the Chamber. We also want to analyze the factors and objectives that weighed in the construction of the public image of the new Queen. In the last place, we want to comprehend better the political role played by Maria Luisa Gabriela and how it changed during this process. As this was a mutable process, we want to dwell in the following aspects: a) the development of the relationship between the Royal Couple; b) the nature of the bonds that linked the Queen to her First Lady of the Chamber (the Princess of Ursins); c) the instability that characterized the French-Spanish dynastic and political alliance between 1703 and 1705; d) the strategies developed by the consort and the Princess of Ursins in order to reinforce their authority and influence at the Courts of Madrid and Versailles.
Dans une perspective globale cette thèse constitue une approche à certaines années de la biographie de Marie-Louise-Gabrielle de Savoie, première femme de Philippe V, roi d'Espagne. Une phase dans la vie de la reine, qui couvre le période 1701- 1705, que fut influencée par les circonstances dérivés de son processus d'adaptation à la cour espagnole et à son rôle en tant qu'épouse du premier Bourbon 15 d'Espagne. Les caractéristiques des mariages de la royauté européenne pendant l'Ancien Régime, qui ont été lieu généralement entre les membres des différents dynasties, ont pour conséquence que la reine, très souvent, est d'origine étrangère. Installée dans le pays d'adoption, la nouvelle reine devait à une ambiance dont les coutumes étaient bien différentes de celui dans lequel elle avait grandi et avait été éduquée ; mais également elle devait s'initier dans l'accomplissement du cérémonial de la cour d'adoption et dans l'exercice des différentes manifestations de son statut comme épouse du monarque. À cet égard, le cas de Marie-Louise-Gabrielle de Savoie nous semble intéressant par deux raisons. D'abord, pour le contexte de changement dynastique et de guerre de succession qu'a caractérisé son établissement dans l'Espagne. Mais aussi pour l'influence que la France a exercée sur le gouvernement et la cour espagnole pendant la première partie du règne de son époux, Philippe V. Cette thèse vise à élucider comment cet ensemble de facteurs ont influencée le processus d'adaptation de la première reine de la Maison de Bourbon en Espagne. Dans ses pages nous étudions les causes de son choix comme épouse du roi; nous analysons le rôle joué par le gouvernement de Versailles (et les principaux membres de l'entourage français du roi) dans la prise des mesures les plus importantes du processus d'adaptation de la souveraine (par exemple la composition de la Maison de la nouvelle reine, l'expulsion de son entourage piémontaise ou la désignation d'une dame d'honneur d'origine française); et nous mettrons en valeur quels ont été les caractéristiques de l'image publique de Marie- Louise de Savoie après son établissement dans la cour d'adoption. Égalèment, un autre objectif de cette thèse est d'étudier comment a évolué l'influence politique de la reine pendant son processus d'adaptation. Pourtant, nous voudrons approfondir dans des autres points d'analyse dans ce travail. Par exemple: a) le développement de les liens de la reine avec Philippe V; b) la nature de la relation de la souveraine avec sa dame d'honneur française, la princesse des Ursins; c) les causes de l'instabilité qu'a caractérisé les relations entre la France et l'Espagne depuis 1703 jusqu'à 1705; et d) les différentes stratégies développées par la souveraine et la princesse afin d'affermir son autorité dans cet contexte de crise et, dans un cadre plus large, dans les relations de pouvoir entre les cours de Versailles et Madrid.
Description
Tesis inédita de la Universidad Complutense de Madrid, Facultad de Geografía e Historia, leída el 01-12-2015
Collections