Publication:
De la mortificación a la new age: genealogía y política de las espiritualidades terapéuticas contemporáneas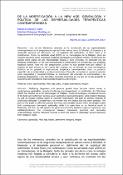 Advisors (or tutors)
Editors
Publisher
Universidad Complutense de Madrid
Abstract
Uno de los elementos centrales en la constitución de las espiritualidades contemporáneas es la progresiva incorporación de valores como la felicidad, el bienestar y el desarrollo personal en detrimento del rol espiritual del sufrimiento, el dolor físico y la mortificación. Como ha señalado Asad (2009) en su Genealogías de la Religión, tanto las morales seculares como la teología moderna han llegado a considerar el dolor y la tormento del cuerpo como signos de una espiritualidad arcaica y poco civilizada, en contraste con las teologías medievales, en las que precisamente la mortificación se consideraba una disciplina espiritual óptima. Ante ello nos preguntamos ¿cómo ha sido posible este giro radical? El objetivo de este artículo es dar cuenta del complejo haz de factores en cuya convergencia histórica se ha gestado la espiritualidad terapéutica contemporánea como un producto específico de la modernidad y su desenvolvimiento. Para ello, se tendrá en cuenta la relación entre religiosidad y bienestar/malestar, la asimilación del concepto de espiritualidad y las prácticas terapéuticas, y los diferentes contextos históricos en los que se ha ido gestando la autonomía del concepto de espiritualidad respecto al de religión.
Wellbeing, happiness and personal growth have become central issues in contemporary spiritualties, despite of suffering, physiological pain or mortification. As Talal Asad (2009) has pointed out in his 'Genealogies of Religion', medieval theologies considered torment of the body and suffering in general as an optimum of spiritual discipline, while modern theology as well as secular morality agree to consider mortification and pain as archaic methods of uncivilized spirituality. Considering it, we wonder how this radical turn has been possible. The point of this paper is take into account the many and complex factors which converged to give birth contemporary therapeutic spirituality, while it is seen here as an historical result of Modernity. For that, we will explore the general relationship between religious experience and wellbeing/sickness, the convergence between therapeutic practices and spirituality understandings, and the historical contexts in which the notion of 'spirituality' gained autonomy from 'religious' realm.
Collections