Publication:
Optical Biosensors for Label-Free Detection of Small Molecules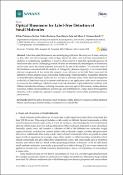 Advisors (or tutors)
Editors
Abstract
Label-free optical biosensors are an intriguing option for the analyses of many analytes, as they offer several advantages such as high sensitivity, direct and real-time measurement in addition to multiplexing capabilities. However, development of label-free optical biosensors for small molecules can be challenging as most of them are not naturally chromogenic or fluorescent, and in some cases, the sensor response is related to the size of the analyte. To overcome some of the limitations associated with the analysis of biologically, pharmacologically, or environmentally relevant compounds of low molecular weight, recent advances in the field have improved the detection of these analytes using outstanding methodology, instrumentation, recognition elements, or immobilization strategies. In this review, we aim to introduce some of the latest developments in the field of label-free optical biosensors with the focus on applications with novel innovations to overcome the challenges related to small molecule detection. Optical label-free methods with different transduction schemes, including evanescent wave and optical fiber sensors, surface plasmon resonance, surface-enhanced Raman spectroscopy, and interferometry, using various biorecognition elements, such as antibodies, aptamers, enzymes, and bioinspired molecularly imprinted polymers, are reviewed.
Collections